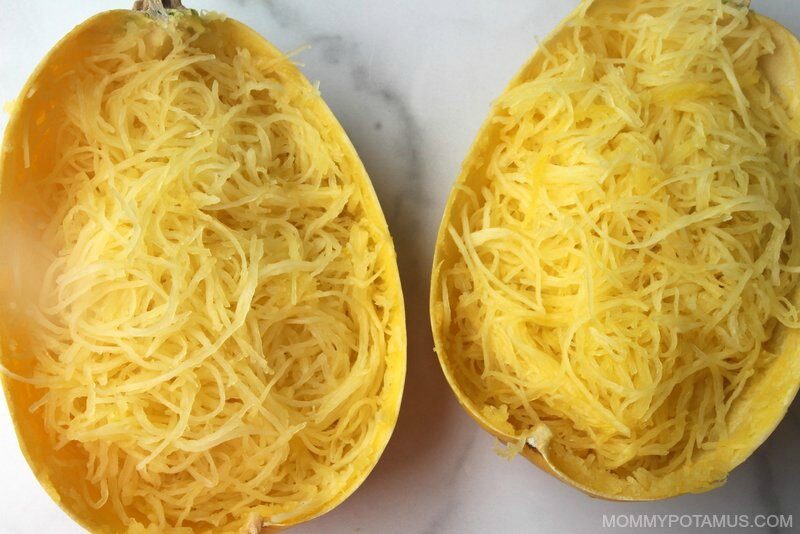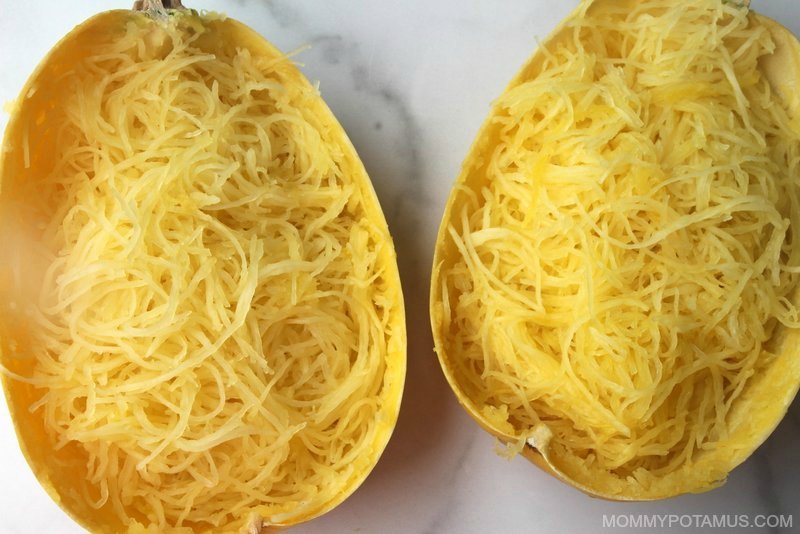 Spaghetti squash is Nature's version of noodles. When pulled apart with a fork, the flesh naturally separates into pasta-like strands that are gluten-free, low-carb, and high in antioxidants. Because it has a mild flavor, it can easily be used as a substitute for pasta or rice in casseroles and other comfort foods.
So, what's the best way to cook spaghetti squash? There are so many ways to prepare it. You can steam it, bake it, roast it, InstantPot it (that's a verb now, right?), grill it, slow cook it, and more. The strands of squash inside are surprisingly versatile once cooked, but most recipes call for cooked squash as an ingredient. That's why today I'm sharing three tried-and-true methods:
Baked Whole Spaghetti Squash
Roasted Cut in Half Spaghetti Squash
Instant Pot Spaghetti Squash
But before we cover the tutorials, a little groundwork is helpful.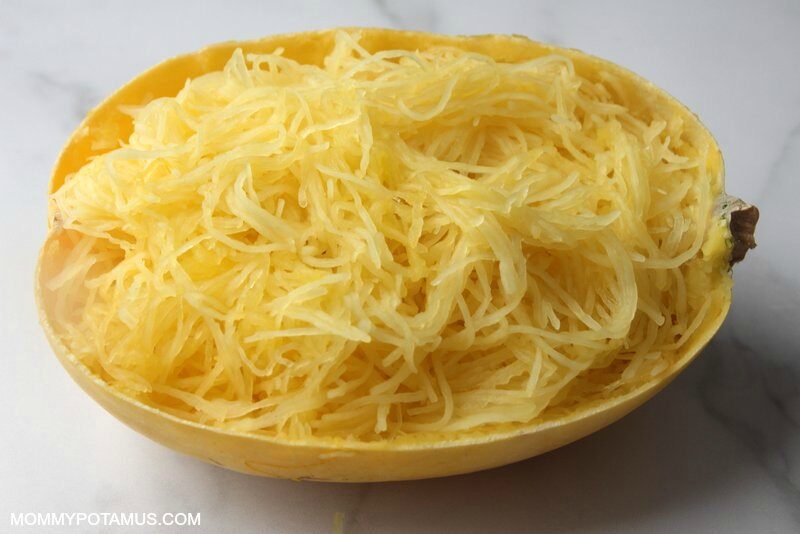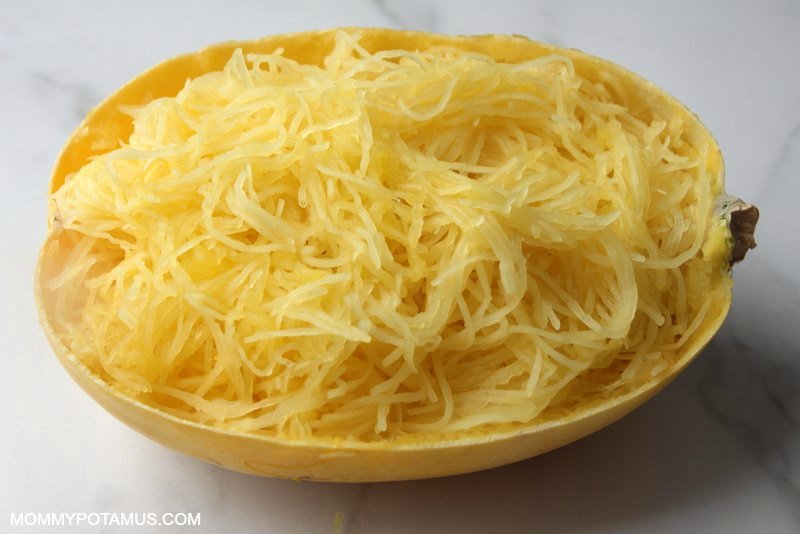 Getting Started
Spaghetti squash is unique among other winter squash varieties in that separates into long ribbons or strands. It's not ideal for stews – butternut squash is a better option in that case – but as I mentioned earlier it works beautifully in pastas and casseroles. Your local grocery store will likely keep this squash in stock nine months out of the year, with summer months being the period considered "out of season." If you can't find spaghetti squash at the store or local farmers market, feel free to pin this post to your favorite fall or winter recipes board and revisit a little later in the season.
How to Choose a Spaghetti Squash
With a hardened shell, you won't likely notice soft spots or other telltale signs of "ripeness". No need to shake, hug, or listen to each squash to find the best ones… but I won't tell if you still want to.
Look for stems that are dry and tan, like cork. Also, opt for the matte finish look on the shells rather than glossy finishes.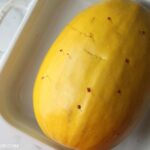 How to Bake a Whole Squash in the Oven
The most difficult thing about making spaghetti squash is cutting through the hard shell, so I prefer this method. I also think it happens to deliver the best results: Plump, well-defined strands that can be eaten as-is or incorporated into other dishes without becoming soggy. 
Total Time
1
hour
20
minutes
Instructions
With a sharp knife, poke holes all over the skin on one side. 

Bake at 400F in a pan for 45-60 minutes, or until it's tender on the inside. Although the shell is very hard, you'll be able to pierce it with a knife or fork fairly easily when it's ready. There should be some resistance when you slide in the knife/fork – if it's super soft the squash is probably overcooked. 

Remove the squash from the oven and set it out to cool. 

When it's cool enough to handle, cut the spaghetti squash in half. Most people cut the squash lengthwise (stem to end) but you'll get longer strands if you cut across the middle. 

Scoop out the seeds and pulp with a spoon. 

Use a fork to scrape or fluff the inside flesh into noodle-length strands. 

Add to your favorite recipe!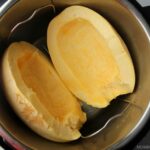 How to Cook Spaghetti Squash in an Instant Pot
Want to make a gluten-free spaghetti in under 30 minutes? The InstantPot the way to go. Because you're using water to essentially steam it, you'll want to remove the lid as soon as the cooking time is complete. (Otherwise it will become soggy.)
Equipment
Instant Pot

large knife

spoon

trivet or steamer platform

fork
Instructions
Cut the squash in half with a large kitchen knife. Tip: Cut the stem off before slicing the squash in half to make things easier. I didn't do that step in the photo pictured above because the stem had been knocked off, but it's definitely easier than trying to cut around the stem.

Scoop out the seeds and pulp with a spoon. Discard or roast the seeds with drizzled olive oil, salt, and fresh ground pepper as a tasty snack. 

Place the trivet inside the Instant Pot

Add 1 cup of water to the pot. 

Place both halves of the squash onto the trivet. Face up or down doesn't really matter. 

Close the pressure cooker lid and cook on high pressure for 7 minutes. 

After seven minutes, slowly turn the pressure release valve to begin venting pressurized steam. 

After the valve has finished releasing steam, twist and turn the lid open.

Strain the liquid and shred or fluff the squash with a fork. 

Add to your favorite recipe!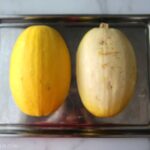 How to Cook Spaghetti Squash in the Oven
In my experience, this method results in spaghetti squash that is a little sweeter than the other methods. However, the strands can become somewhat soggy and difficult to separate if overcooked. 
Total Time
1
hour
10
minutes
Equipment
large knife

spoon

fork

baking dish
Instructions
Pre-heat the oven to 400 degrees. 

Position the squash over a cutting board. With a sharp chef's knife, cut the squash lengthwise, separating squash into two long halves. Tip: Cut the stem off before slicing the squash in half to make things easier. I didn't do that step in the photo pictured above because the stem had been knocked off, but it's definitely easier than trying to cut around the stem.

With a large spoon, scoop out the seeds and pulp. Separate seeds from pulp and save seeds in a bowl. Bonus Snack: Spread the seeds on a baking sheet and roast for a savory, crunchy snack! Drizzle olive oil over the top and sprinkle salt, pepper, and your choice of chili powder, cayenne, or garlic powder for the perfect afternoon snack.

Brush the flesh of both halves with olive oil and sprinkle with salt. 

Place the two squash halves open side face down into a baking dish (lining inside of dish with parchment paper is optional). Don't add water. Added water evaporates and keeps the flesh wet. The roasting approach we're using today will give the squash a more savory, caramelized texture, which I personally prefer. Cook at 450F for 50-60 minutes. Check at the 50 minute mark and again at 60 minutes to get a feel for the rate of caramelization. 

Remove from the oven and allow to cool for 2-3 minutes

For long, angel hair pasta-like strands, repeatedly rake a fork lengthwise down the soft fleshy meat of the squash. The longer each stroke, the longer the spaghetti-like strands will be before separating. For shorter strands, run the fork across the squash in shorter movements. 

Add ingredients and additional seasonings as desired (Recipe suggestions at end of post).
Simple Flavor Combos
You can serve spaghetti squash as the main entree or as a side dish to complement the main course. We'll get to a few favorite recipes in a bit, but first, there are some simple topping combinations that work perfectly.
Light olive oil and grated parmesan
Salt, freshly ground black pepper, and melted butter
Marinara sauce with/without meatballs
Garlic, chive, and artichoke
Roasted tomato, garlic, and black olive
Sausage and peppers
Butter, cinnamon, and cayenne
Spaghetti Squash Recipes
Baked Cheesy Squash, by Deliciously Organic
Substitute for spaghetti noodles or angel hair pasta in any dish.
Frequently Asked Questions
Below are answers to some of the most common questions I've been asked over the years after sharing various spaghetti squash recipes on my Facebook page.
When is Spaghetti Squash in Season?
Spaghetti squash is one of the popular winter squash varieties, along with acorn, butternut, and pie pumpkin. They're grown in spring and summer along with other squash varieties, but sold throughout winter and spring because they last longer off the vine than summer squash. According to National Co+Op Grocers, winter squash are harvested from late summer through fall, then "cured" or "hardened off" in open air to toughen their exterior. This curing process ensures the squash will keep for months without refrigeration. Summer squash varieties like zucchini, pattypan, crookneck, zephyr, and cousa have a much shorter shelf life.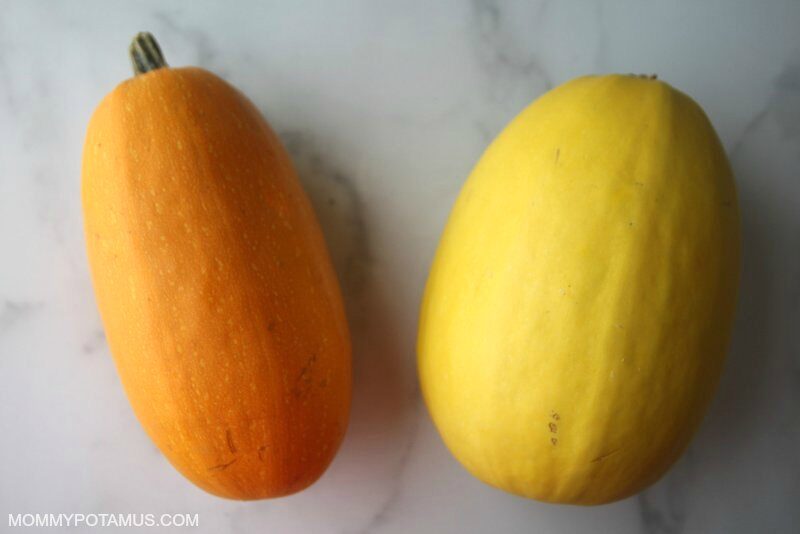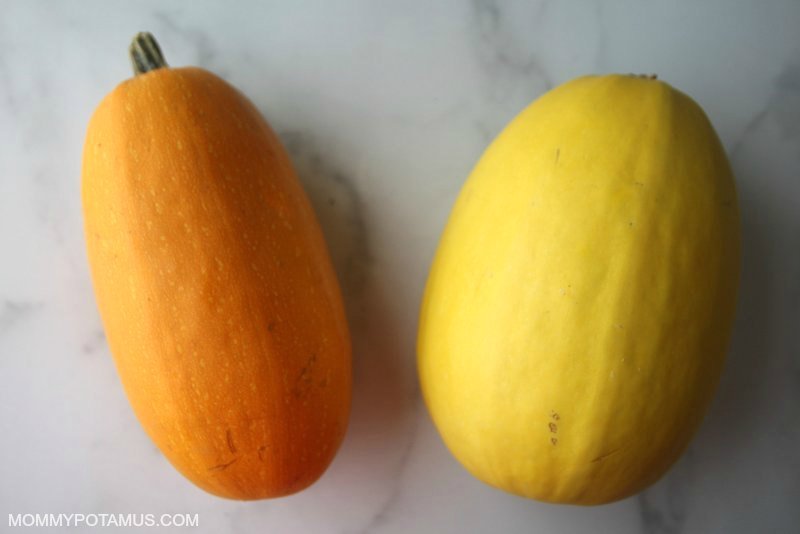 What's the Difference Between Yellow and Orange?
Canary yellow is the traditional color of a mature spaghetti squash, but orange varieties (aka Orangetti) are also popular. While the orange variety is pretty – and pretty tasty in my experience – at least one consumer test showed that more people prefer the flavor and texture of the yellow variety once cooked.
How Long Does Spaghetti Squash Last?
Store cut spaghetti squash in the fridge in a sealed container up to five days. Store uncut squash in a cool, dry pantry up to three months.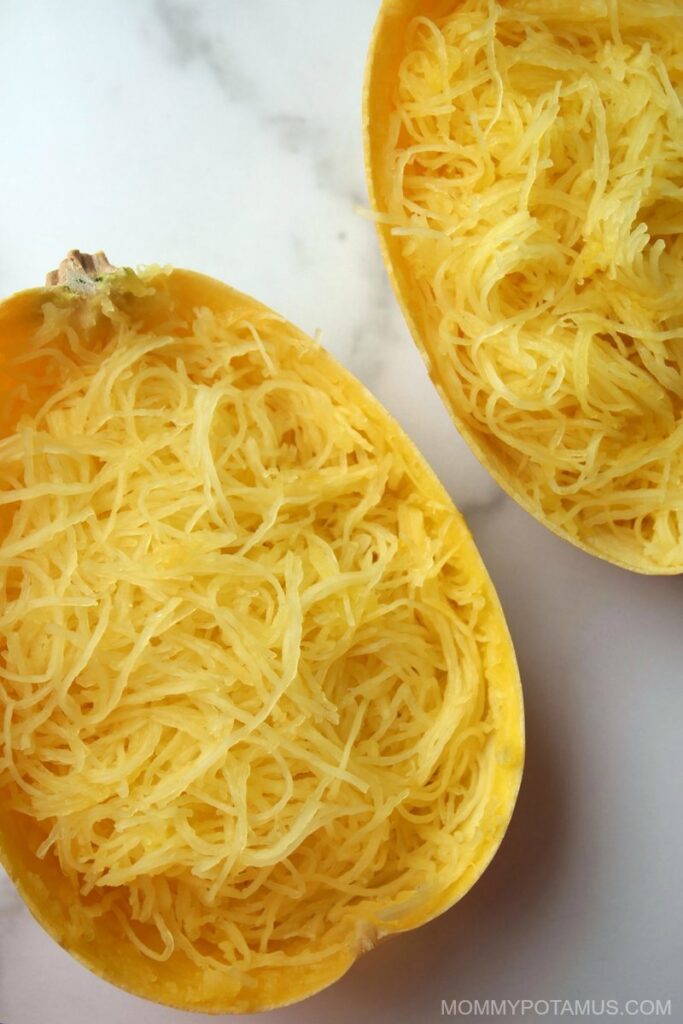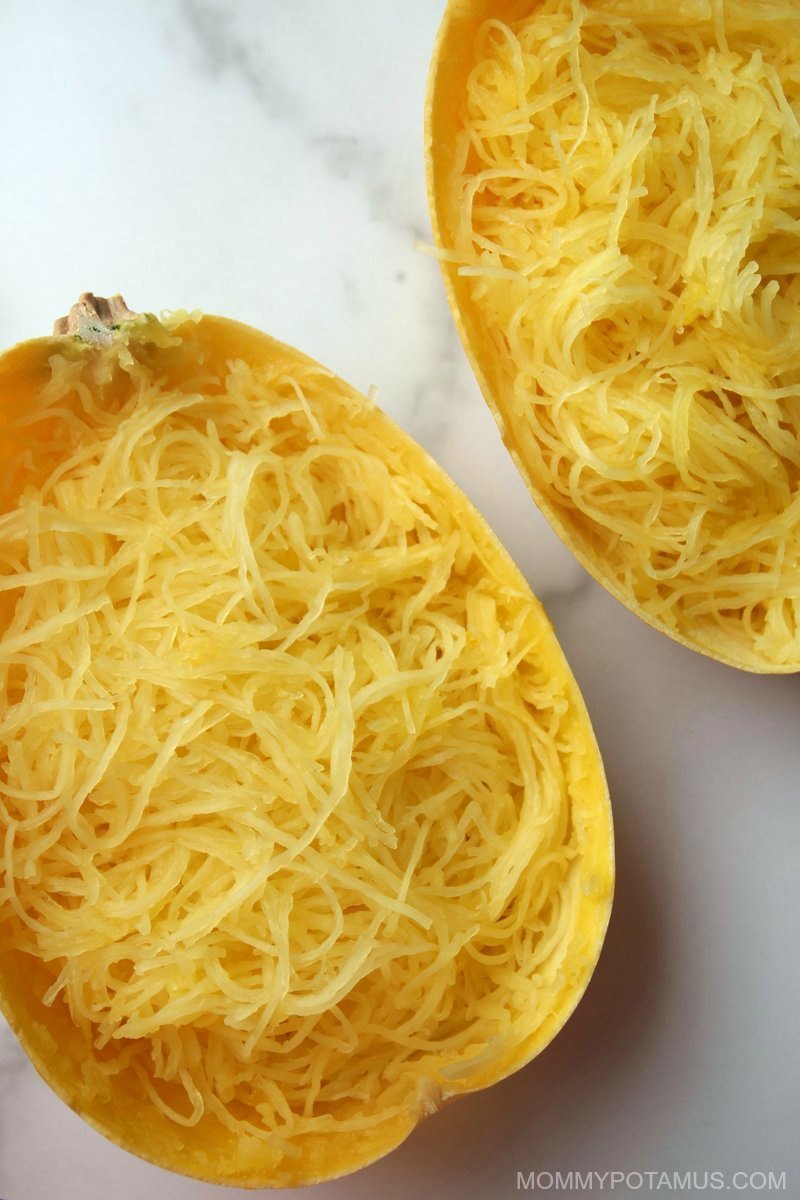 Continue reading How To Cook Spaghetti Squash (3 Easy Methods)…