Share www.GetCollagen.co.za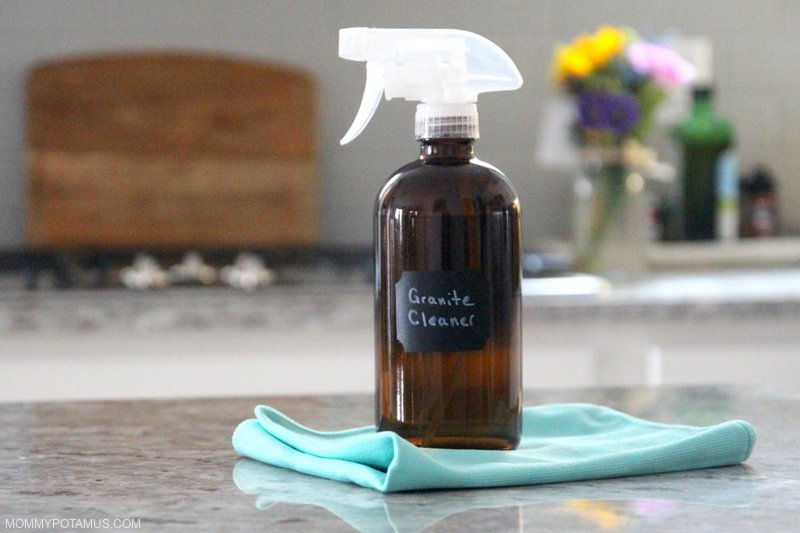 I love the bright, crisp scent of this Lemon & Lavender All-Purpose Cleaner, but vinegar is too acidic for granite countertops. Over time, it can corrode the countertops sealant, making it more vulnerable to staining, etching, and chipping.
Lemon juice and citric acid are a no-go for the same reason, but common store bought options have their own concerns. Many earn a safety rating of a C or even F from the Environmental Working Group, and they tend to be pretty pricey.
Fortunately, we don't need them. This easy, pH neutral recipe works without leaving streaks or a grimy residue, and you can still incorporate the fresh scent of lemon without using lemon juice. That's because essential oils, even citrus oils, are pH neutral and therefore considered safe to use.
Essential Oil Options
Organic lemon essential oil is my go-to in this recipe, but there are also a few other options that work well for cleaning. All are safe for use around kids. Click here for more info on using essential oils safely with babies and children.
Cinnamon Leaf (Cinnamomum verum) – NOT cinnamon bark. Warm, inviting scent.
Spearmint (Mentha spicata) – Similar to peppermint, but safer for use with kids under six.
Bergamot (Citrus bergamia) – Bright, clean, uplifting citrus scent.
Lemon (Citrus x limon) – Fresh, crisp, mood lifting aroma.
Lime (Citrus x aurantifolia) – Refreshing, citrusy and energizing.
Lemon Eucalyptus (Eucalyptus citriodora) – Mood lifting, supports healthy respiratory function, and can also be used in homemade bug spray.
Pink Grapefruit(Citrus x paradisi) – Crisp and clean.
Sweet Orange(Citrus sinensis) – Sweet and fresh.
Sweet Marjoram (Origanum majorana) – Herbaceous, relaxing scent
What To Buy When You Don't Have Time To DIY
When you're short on time, sometimes it's better to buy a pre-made option so that you can focus on other priorities.
Most granite cleaners get a D or an F from the Environmental Working Group. Although this one from Eco-Me is not specifically rated by the EWG, it contains two plant-derived soaps that are rated as an A, plus aloe vera, radish root ferment (which is antimicrobial), and a food-grade preservative. It's formulated for granite and sealed natural stone surfaces.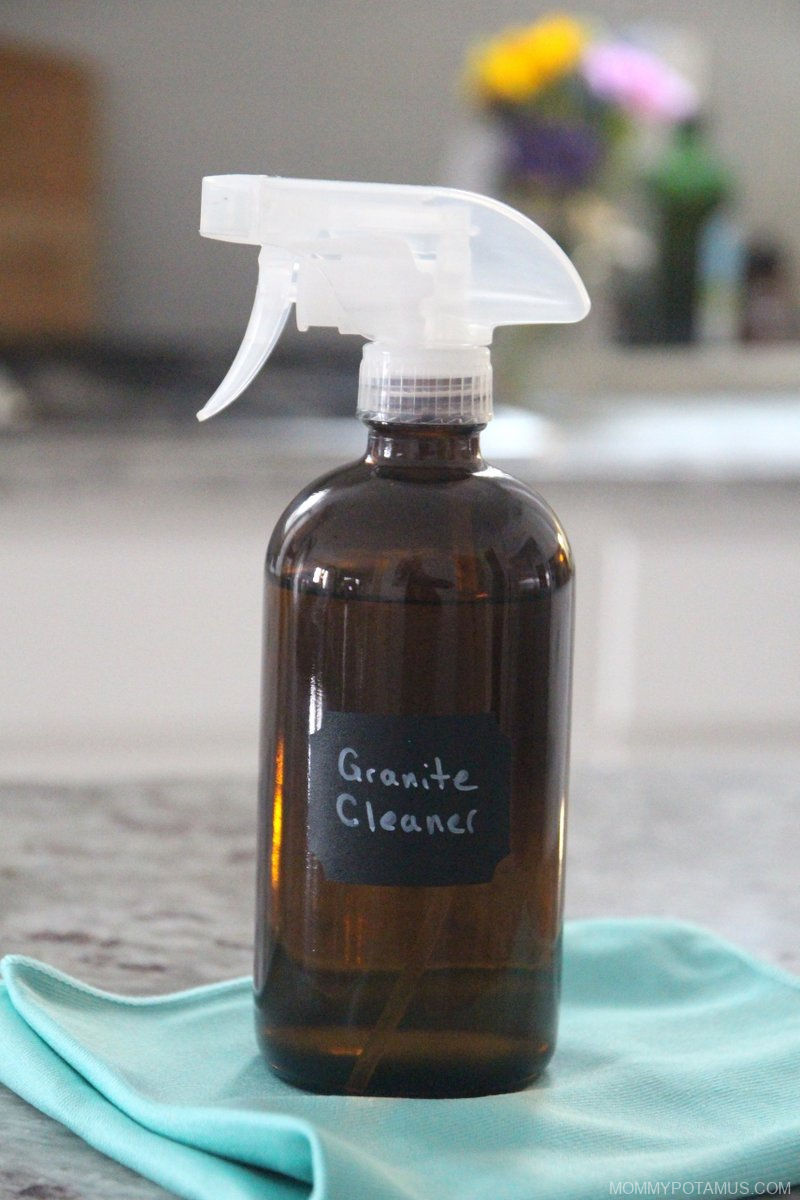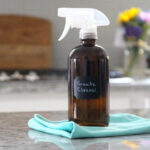 DIY Granite Cleaner Recipe
This natural homemade granite cleaner won't etch countertops like vinegar or lemon juice, and works beautifully without leaving streaks or a filmy residue. It's so easy to make, too!
Recipe makes one 16 ounce glass spray bottle. I recommend using it with a soft cotton cloth.
Ingredients
½

cup

rubbing alcohol/isopropyl alcohol or vodka

1½

cups

distilled water

20

drops

of essential oil

(see options above)
Instructions
To Make
Add the essential oil to the alcohol and stir thoroughly with a fork.

Pour into your spray bottle and then add the water and shake well.
To Use
Shake granite cleaner, then spray your countertop.

Wipe down the surface with a clean cloth.
More Natural Cleaning Recipes
Streak-Free Glass Cleaner – Why make your own glass cleaner? Because it's easy, it works, and the most popular store-bought brand gets a "D" from the Environmental Working Group.
Homemade Soft Scrub – Wipe away grime on sinks and tubs with this simple recipe.
Homemade Bleach Alternative – If finding a homemade bleach alternative feels a little like hunting for a mythical laundry unicorn, I think you'll like this simple but effective recipe.
Want a FREE ebook of non-toxic cleaning recipes that WORK?
I've created a free ebook for you as a gift for signing up for my newsletter. 7 Non-Toxic Cleaning Recipes That Really Work covers seven recipes that you can make in just a few minutes each for squeaky clean windows, sparkling dinnerware, lemon-fresh countertops, and more. Subscribe to my newsletter below and you'll be redirected to a download page for immediate access to this PDF ebook.
Continue reading DIY Granite Cleaner Recipe…