Share www.GetCollagen.co.za
Eggplant is nutritious and oh-so-versatile! Here are 10 flavorful vegan recipes that show off the many ways that you can prepare eggplant at home.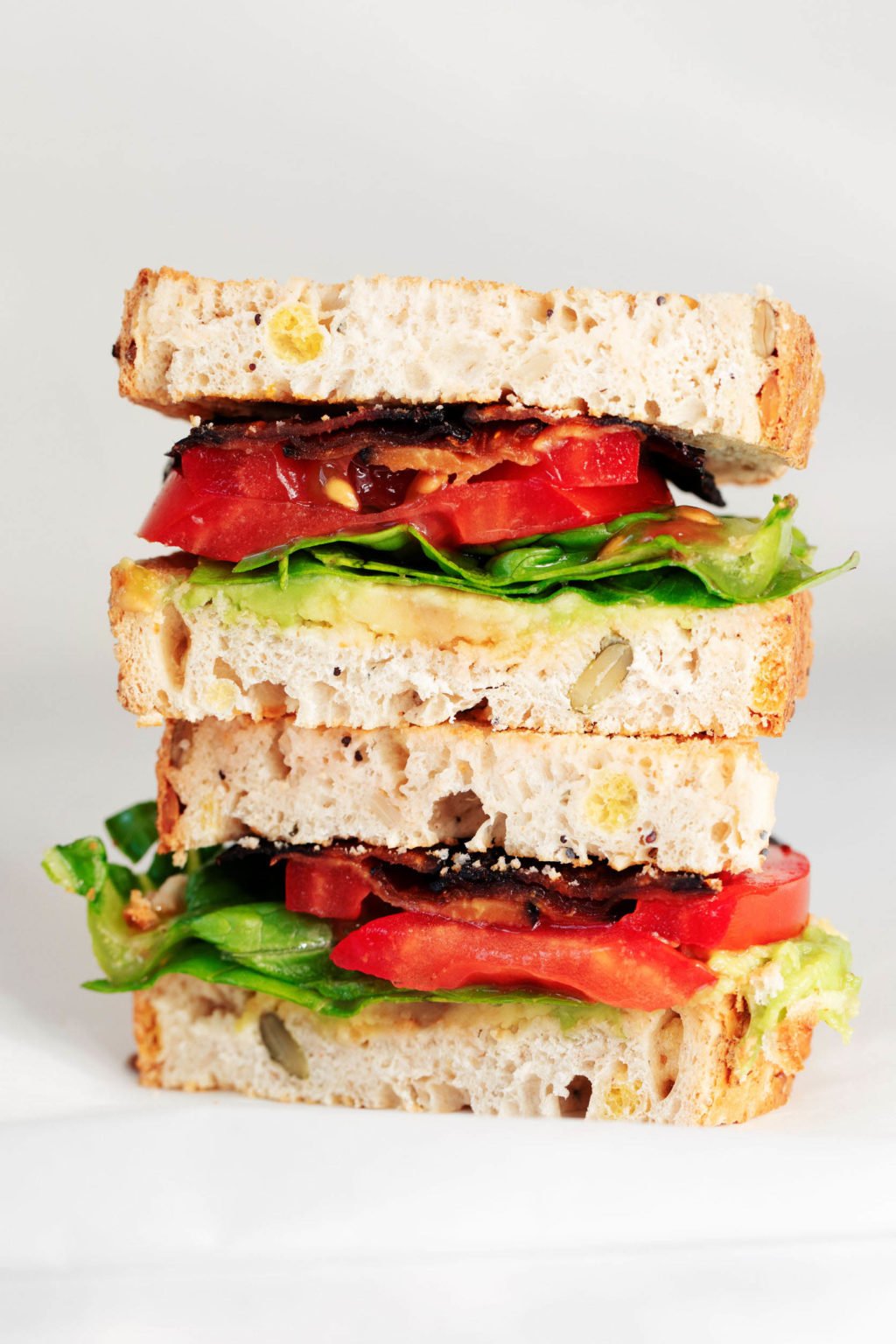 It's eggplant season!
August and September are my favorite time of year for produce. Deep purple, shiny eggplant has a lot to do with this.
I know that eggplant can be controversial. Along with beets and mushrooms, it's one of the foods that my nutrition clients most often report being squeamish about.
Me? I'm a devoted eggplant fan. Eggplant is hearty, it soaks up flavor efficiently, and it is amazingly versatile. It can be baked, fried, stuffed, sautéed, or even turned into vegan "bacon," as you'll see in the vegan eggplant recipes that follow.
Eggplant is also a good source of nutrition.
The health benefits of eggplant
Eggplant is rich in health-supportive phytonutrients. Eggplant owes the beautiful purple color of its skin to anthocyanins. These are plant pigments that are associated with possible protection against cardiovascular disease and some cancers. Anthocyanins may help to enhance memory and boost cognitive function, and they're also associated with anti-inflammatory action.
Eggplant is also a source of lutein, a carotenoid that may be beneficial for eye health.
Finally, eggplant is a high fiber food. This means that it can help to keep us full, to keep blood lipids in check, and to benefit digestive health.
Types of eggplant
I nearly always cook with globe eggplant, which has a meaty texture and deep purple color. I also really like Italian eggplant, which is similar but a little smaller. Italian eggplant has super tender flesh, which is perfect for my Pasta alla Norma or stewed eggplant tomato lentils.
I love slicing Japanese and Chinese eggplants, which are long and thin, into circles, then adding the slices to stir fries. It's also fun to add lengthwise slices of these varieties to the grill.
Finally, Indian eggplants, which are short and round, are my perfect for stuffing.
You can learn more about types of eggplant in this handy primer.
How to cook eggplant
Eggplant can be grilled, pan-fried or sautéed, baked, stewed, or grilled. Eggplant flesh is sponge-like, and it absorbs flavor easily, so I think it's a great choice for marinades.
Before cooking a globe or Italian eggplant, you'll want to trim off the top. It's not usually necessary to remove eggplant skin, though if a recipe calls for doing that, then there's probably a good reason.
To salt or not to salt eggplant?
Whether or not to salt eggplant flesh prior to cooking is a topic of debate! Salting is thought to reduce any potential bitterness in eggplant.
Some say that ripe eggplant isn't bitter and needs no salting. Others feel that salting doesn't make a difference one way or the other.
Me? I'm pro-salting. I do think it helps to reduce bitterness, and more importantly, I think that it helps to tenderize the eggplant flesh. I almost always salt eggplant before cooking with it, unless I'm making baba ganoush.
Many of these vegan eggplant recipes call for a salting step. Plan accordingly!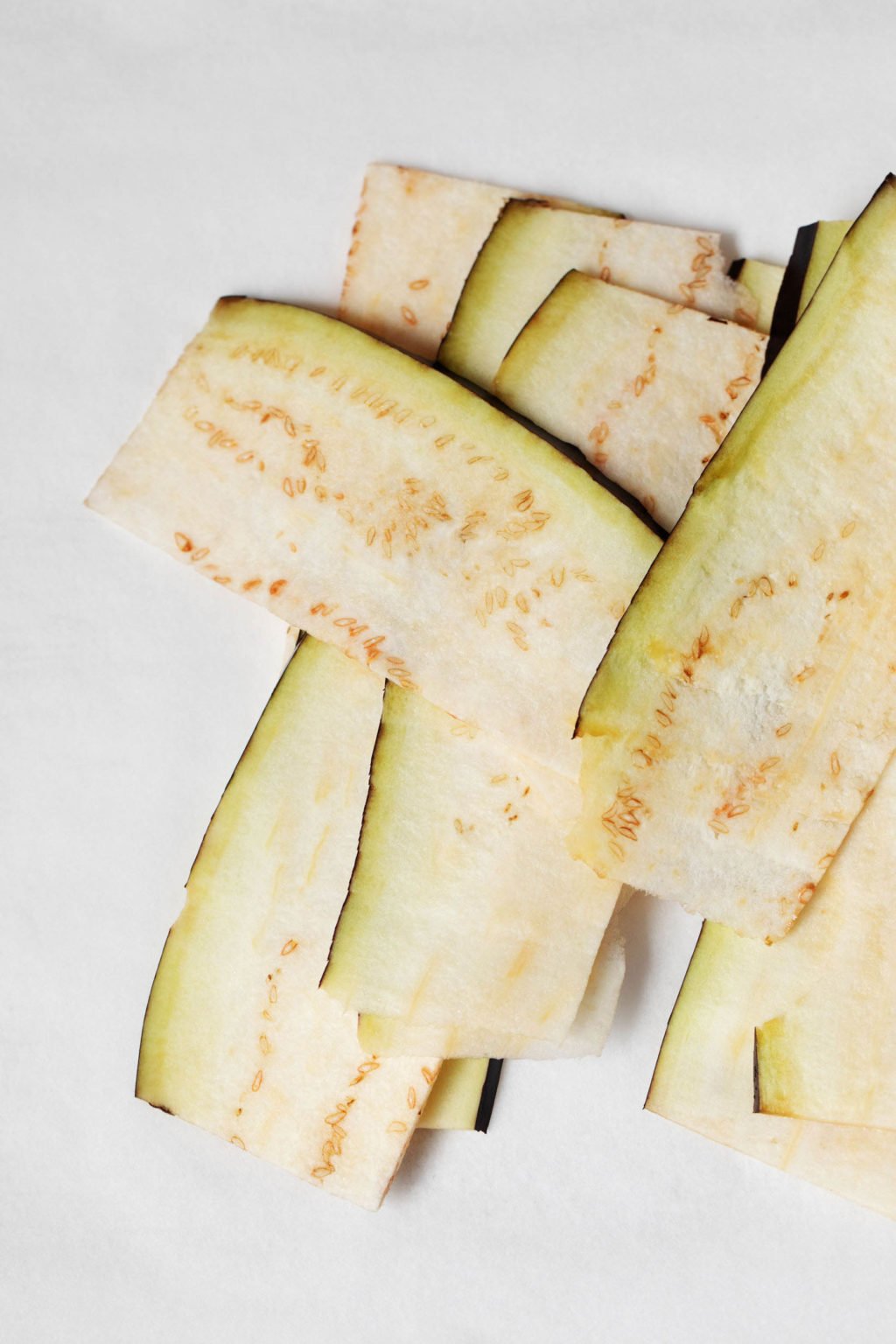 10 flavorful vegan eggplant recipes
Here are ten of my favorite vegan eggplant recipes, which I hope show off the summery goodness and versatility of this nightshade.
There are stews, pasta dishes, stuffed eggplants, grain-based meals, a creative eggplant rollatini, and—last but definitely not least—a vegan eggplant bacon that'll add salty, smoky goodness to all of your late summer BLTs.
Vegan Eggplant Baked Rigatoni
A perfect dish to make with your late summer eggplant, your favorite pasta shape, and a jar of your favorite marinara sauce. Simple, vegan comfort food at its best.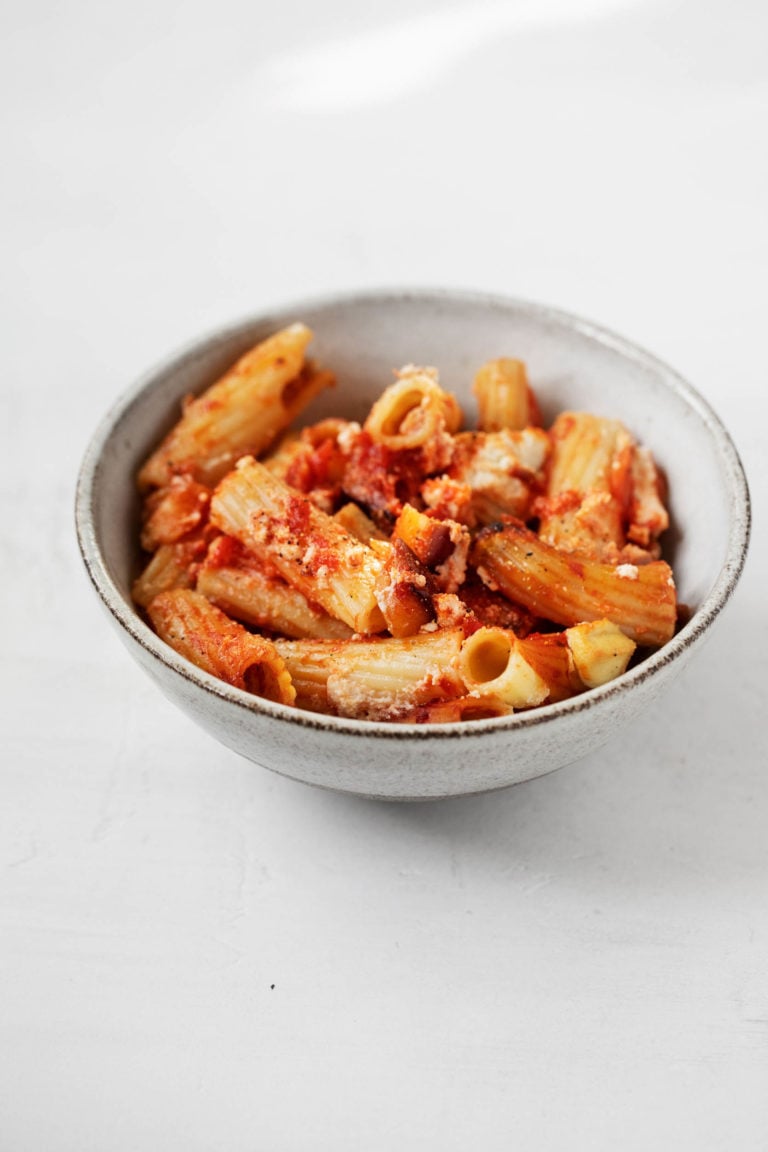 Eggplant Tortilla Pizza with Arugula and Peppers
This vegan eggplant tortilla pizza is perfect for a nutritious plant-based lunch! It's made with a creamy eggplant spread that's reminiscent of baba ganoush, peppery arugula, and fresh or roasted red pepper strips.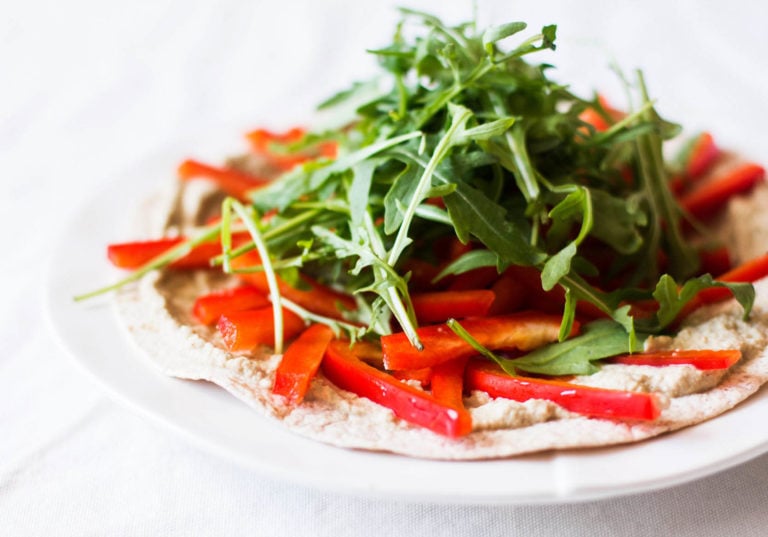 Stewed Eggplant Tomato Lentils
A savory, Mediterranean inspired eggplant, tomato, and lentil dish to celebrate the flavors and fresh produce of summer.
Best Vegan Pasta alla Norma
This vegan Pasta alla Norma is so saucy and satisfying! Made with eggplant, basil, capers, and cashew cheese, it's a plant-based spin on the classic Sicilian recipe.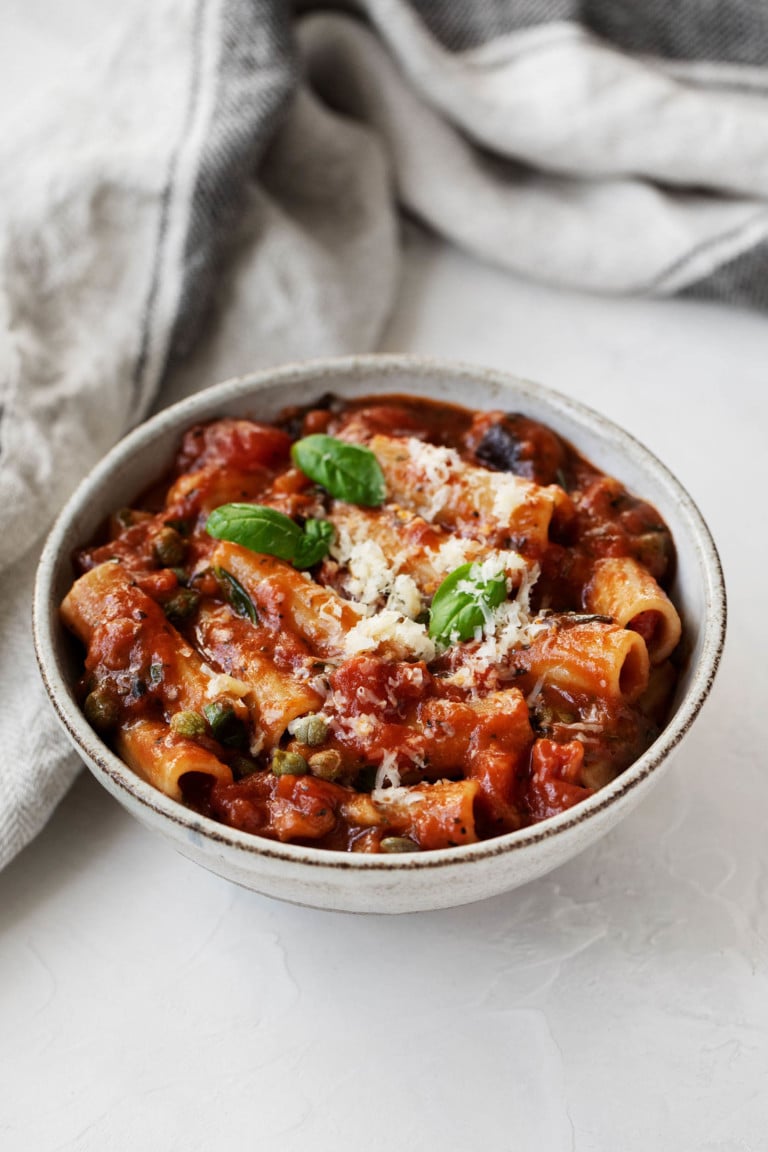 Vegan Eggplant Rollatini
These vegan eggplant rollatini are a lighter spin on lasagna rolls, but they don't sacrifice any flavor! They're filled with a protein rich tofu ricotta and wrapped in layers of baked eggplant. A perfect plant-based dish for summer entertaining.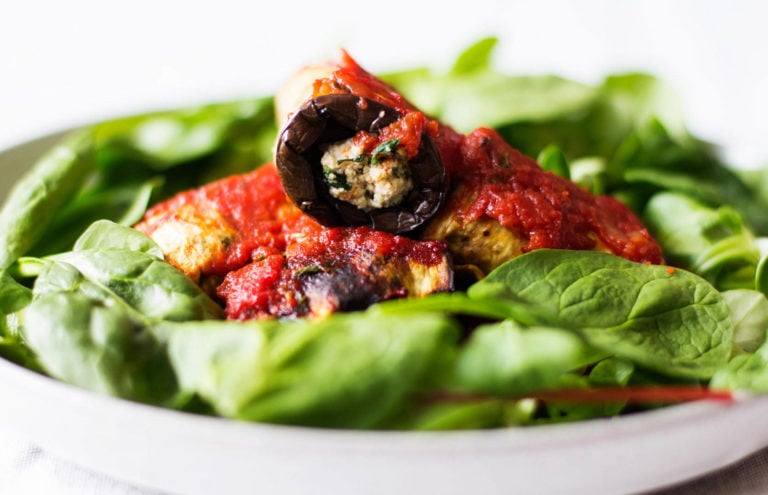 Smoky Eggplant Red Lentil Dip
This smoky eggplant red lentil dip will add flavor to any sandwich, bowl, or appetizer spread. It's also packed with nutrition.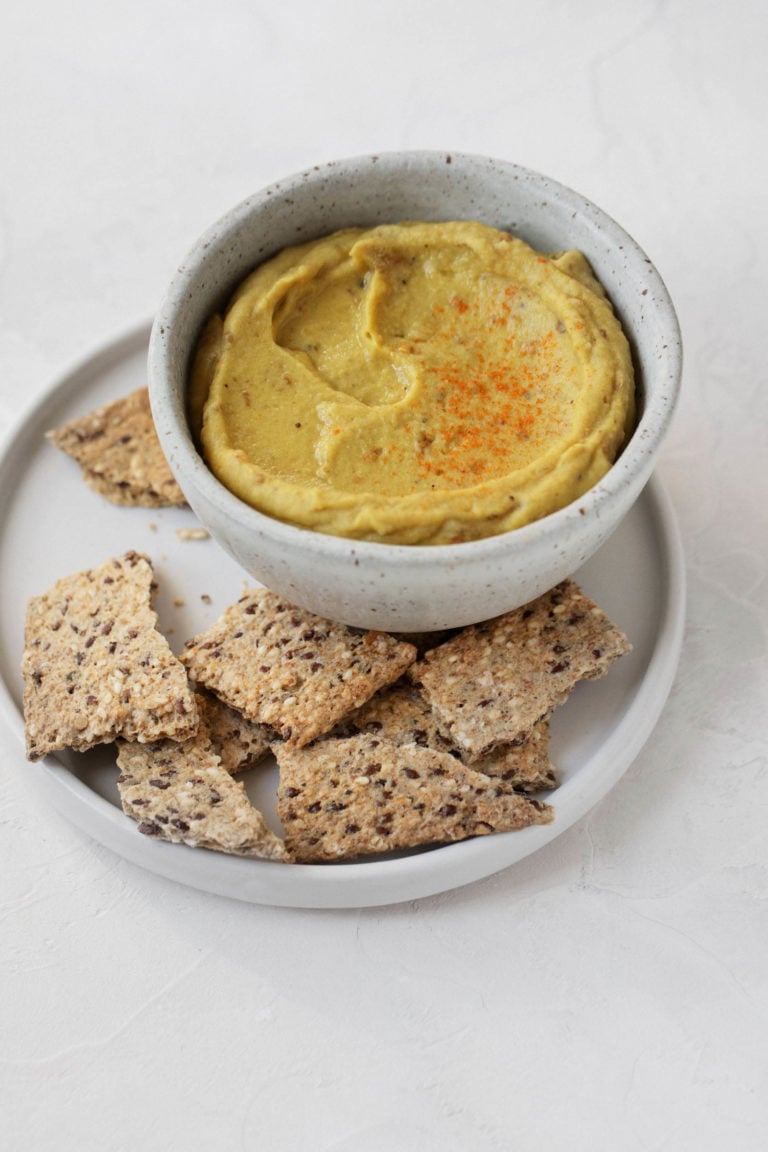 Curried Eggplant, Tomatoes and Chickpeas
Curried eggplant, tomatoes and chickpeas make for a satisfying and flavorful summer meal. Served with a quick, homemade flatbread!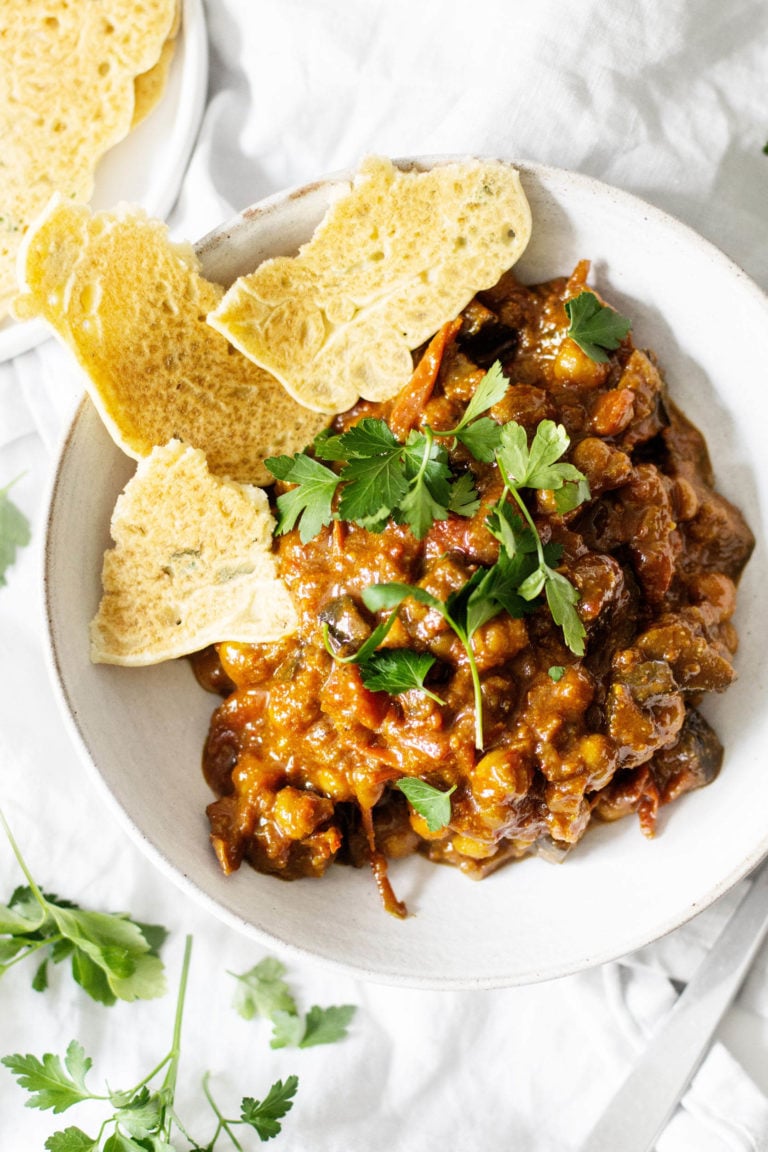 Bulgur Stuffed Eggplants with Tamarind, Currants & Pine Nuts
These bulgur stuffed eggplants with tamarind, currants & pine nuts are bursting with flavor and packed with nutrition. They're especially good for entertaining and serving to friends!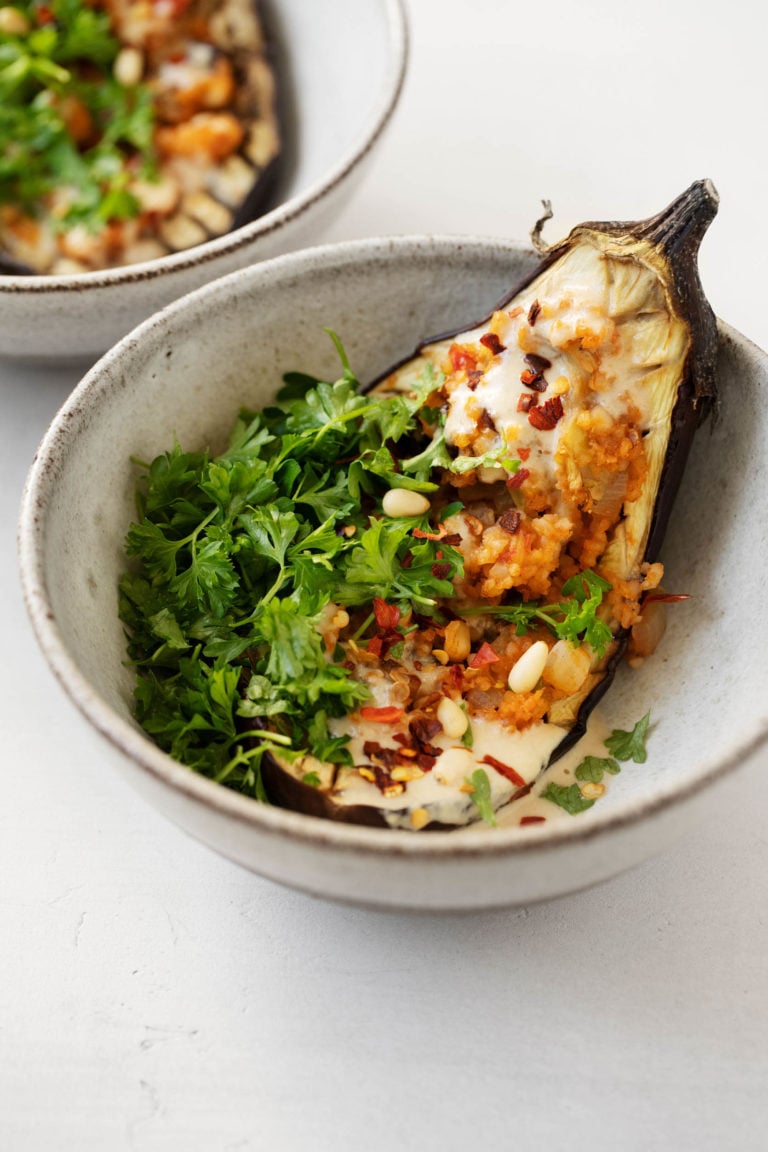 Eggplant Quinoa
This eggplant quinoa dish is a full of healthy, Mediterranean inspired ingredients! It's made with tender, roasted eggplant, white beans, and peppers, and it's dressed in a sweet and tangy balsamic vinaigrette.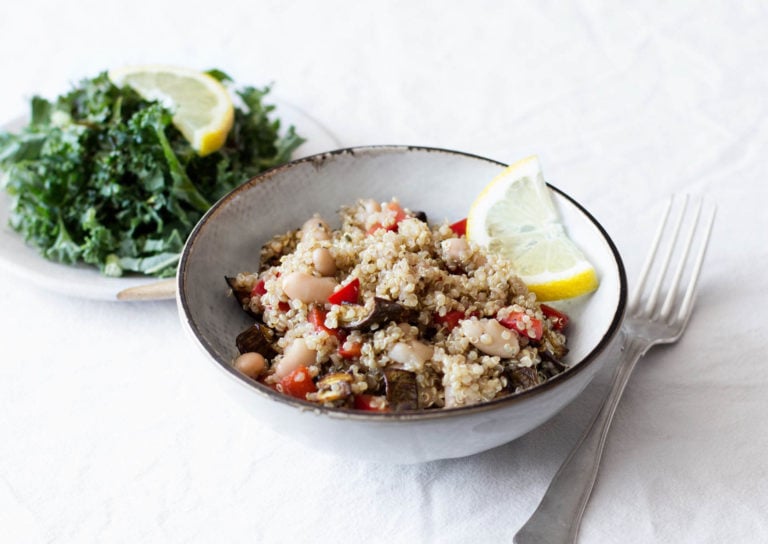 Vegan Eggplant Bacon
Vegan eggplant bacon will add a burst of smoky, salty flavor to sandwiches, burgers, and more! It's a healthful, plant-based alternative to meat. Best of all, it's easy to prepare.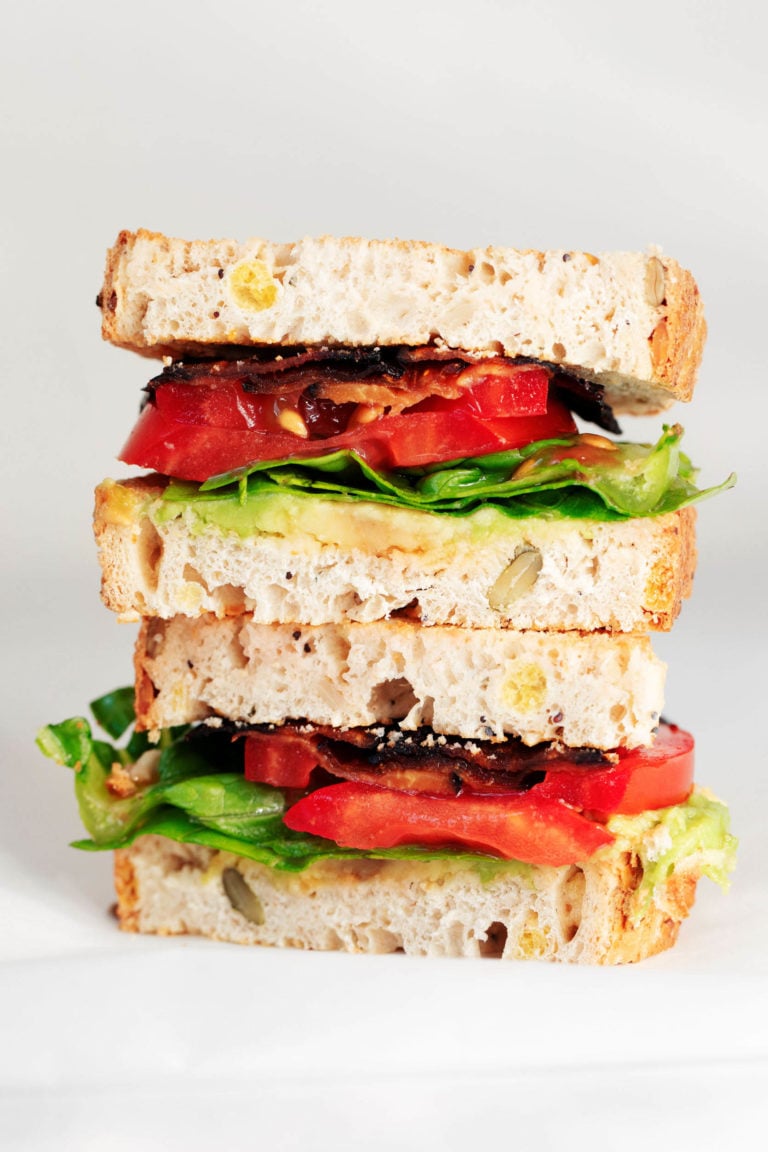 Eggplant bacon! Who knew, right? This is an old recipe of mine, which I originally prepared raw, in a dehydrator. Now I make it in the oven, and I prefer the baked version. I think it has a better texture and a deeper, more complex flavor.
You can learn more about making vegan eggplant bacon in this post! In the meantime, here's my go-to recipe.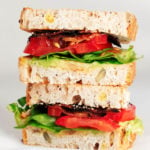 Vegan Eggplant Bacon
Vegan eggplant bacon will add a burst of smoky, salty flavor to sandwiches, burgers, and more! It's a healthful, plant-based alternative to meat. Plus, 10 flavorful and versatile vegan eggplant recipes!
Ingredients
1

medium globe eggplant

3

tablespoons

tamari or soy sauce

2

tablespoons

apple cider vinegar

1 1/2

tablespoons

maple syrup

1 1/2

tablespoons

avocado oil

1

teaspoon

smoked paprika

pinch

freshly ground black pepper
Instructions
Trim the top of the eggplant, then cut it into quarters lengthwise. Use a mandolin to slice the eggplant lengthwise into very thin slices (1/4" or slightly thinner).

Whisk the tamari, vinegar, maple syrup, oil, paprika, and black pepper together.

Line a rectangular glass lock (or other storage container) with the eggplant slices. Pour the marinade over the eggplant. Cover the container and shake it gently to distribute the marinade. Allow the eggplant slices to marinate for at least one hour, or up to overnight. Alternately, you can marinate the eggplant slices in a covered baking dish.

Preheat your oven to 325F. Line a baking sheet with parchment. Remove the eggplant slices from the marinade, reserving excess marinade, and arrange them on the parchment lined sheet. 

Bake the slices for 20 minutes. Flip them over, then brush the new exposed side lightly with your additional marinade. Return the slices to the oven and bake for another 20 minutes, or until they're lightly browning and crisping up at the edges. 

Store the slices in an airtight container for up to 1 week in the fridge. Slices can be reheated in the oven, using another parchment lined baking sheet, for about 10 minutes at 325.
Speaking of this, a BLT for lunch is sounding really great right about now.
I hope you'll enjoy the eggplant recipes—and all of the joys of late summer at the farmers market!
xo
The post 10 Flavorful Vegan Eggplant Recipes appeared first on The Full Helping.