Share www.GetCollagen.co.za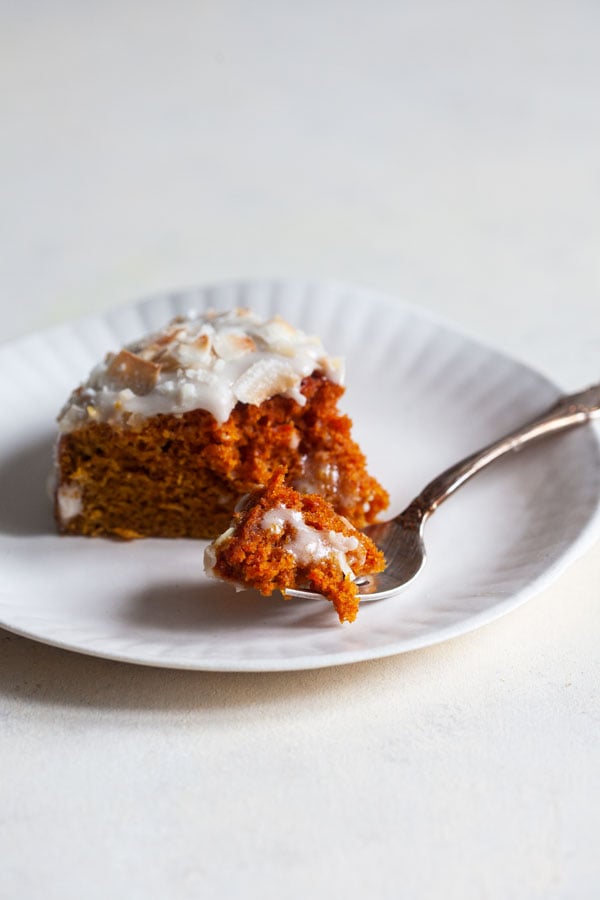 Sooner or later I should post a dessert recipe that isn't cake, right?
I guess I just can't help myself. Placed in a room full of every vegan dessert imaginable, cake would be my first choice every time. But give me time: once the internship eases up I'll be baking more treats, and they can't all be cake. For now, I hope you can forgive another one. If it sweetens the deal at all, it's really tasty.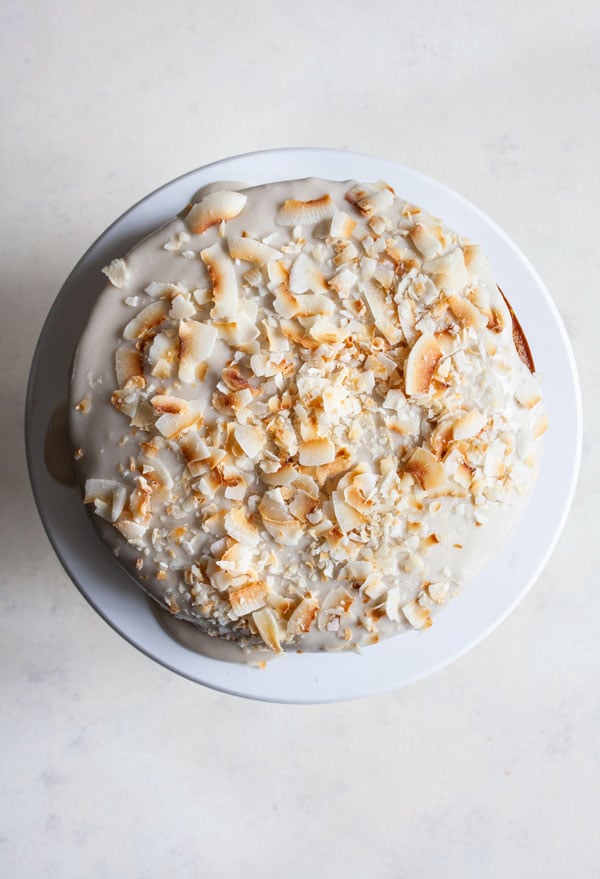 Beneath the glaze and the toasted coconut flakes (which are a perfect garnish), this cake is a beautiful, ruddy orange color. This is thanks to the addition of turmeric to the batter. The batter is golden before baking (the same color as a turmeric latte) and reddish after. This is because curcumin, which is the active ingredient in turmeric, turns red when it comes into contact with bases (like baking soda or baking powder). It's not the flavor of red velvet cake at all, but the color isn't too far off.
The flavor is inspired by golden milk, which is to say that it's got turmeric, a little pinch of black pepper, and cinnamon. It's a similar formula and ratio of ingredients to many other cakes I've baked, but I was surprised at how much richness the spices give it.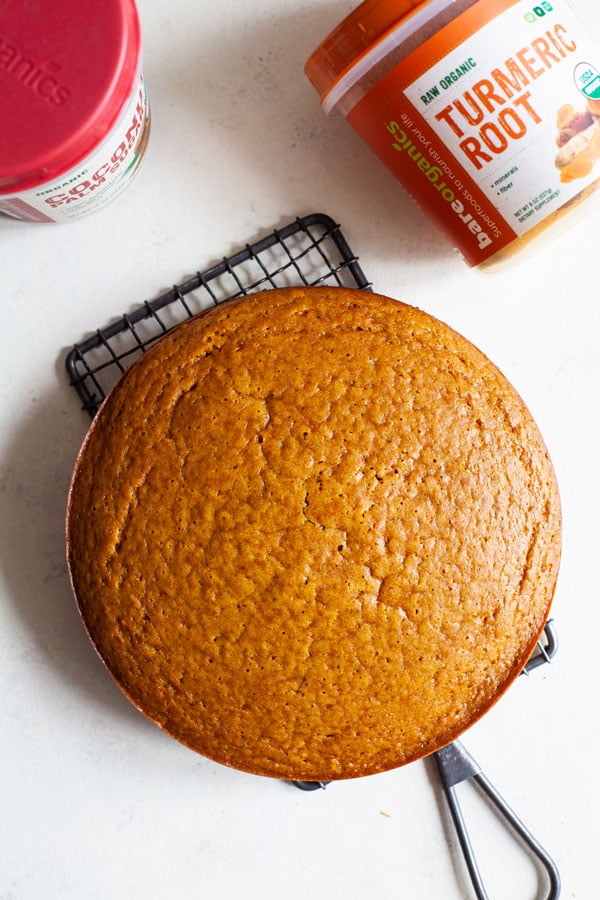 The turmeric and coconut palm sugar that help to flavor the cake are provided by the folks at Bare Organics. Bare specializes in superfoods—foods that are exceptionally nutrient dense, like chia, flax, beets, and turmeric—that can be used in everyday cooking, snacking, and baking. The brand's turmeric is perfect for cooking, for medicinal beverages, or for smoothies, but it works beautifully in this recipe and would be great in other baked goods. The coconut palm sugar provides the caramel-like sweetness that only palm sugar does (I bake with cane sugar often, but it's not quite the same), and it's low glycemic to boot.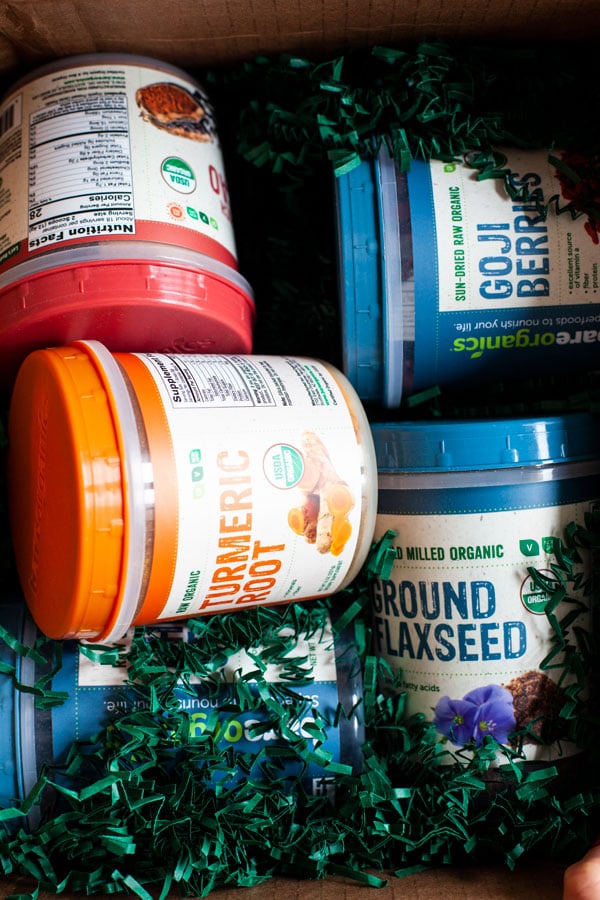 I'm a big fan of Bare's flax, chia and goji berries, all of which make regular appearances in my oatmeal and oatmeal bakes. But it's worth mentioning that the brand has an entire baking line! It features cacao and cacao nibs, the coconut palm sugar, and powdered coconut milk, among other goodies, and I'm excited to explore more of it. I've already made a fun batch of acai beet muffin's with the brand's beet and acai powders.
I make vegan frosting in all kinds of ways: with cashews, with Earth Balance, and even with pumpkin. This time, I whipped up coconut cream with confectioners' sugar and vanilla. I loved how it turned out: it's someplace in between a rich buttercream frosting and a lighter glaze. You can use any frosting you like for the cake, or if you're not in the mood to make frosting, you can enjoy the slices plain, as more of a snack cake than a dessert cake.
So many wonderful varieties of cake. Here's the recipe.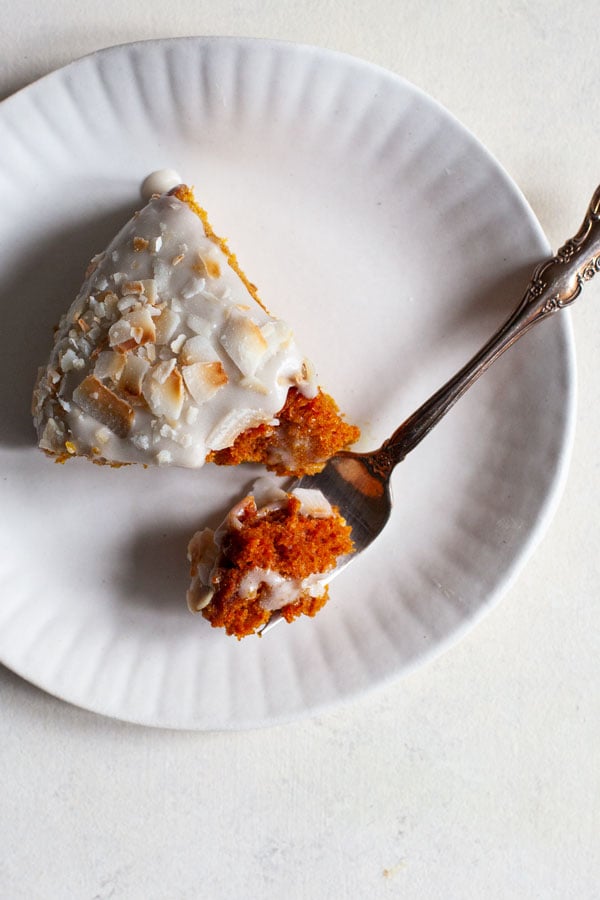 Vegan Golden Milk Cake with Coconut Frosting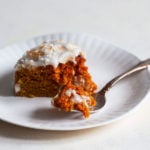 1 2/3 cup all purpose or whole wheat pastry flour
3/4 cup BareOrganics coconut palm sugar (substitute cane sugar)
1 teaspoon baking powder
1/2 teaspoon baking soda
1 teaspoon ground cinnamon
2 scoops BareOrganics turmeric root powder (or 2 teaspoons ground turmeric)
1/4 teaspoon fine salt
1 pinch freshly ground black pepper
1 1/4 cups non-dairy milk of choice
1 tablespoon freshly squeezed lemon juice
1 teaspoon vanilla extract
1/3 cup vegetable oil (such as grapeseed, refined avocado, or canola)
Coconut Frosting & Decoration
2 cans coconut cream, chilled overnight in the fridge
1 pinch sea salt
1 teaspoon vanilla extract
2 cups confectioners' sugar
2/3 cup toasted coconut flakes, if desired
Preheat your oven to 375F and line an 8-inch round, nonstick cake pan with parchment.

In a large mixing bowl, whisk together the flour, sugar, baking powder and soda, cinnamon, turmeric, salt, and pepper.

In another mixing bowl, combine the non-dairy milk and lemon. Allow it to sit for a minute, then stir in the oil and vanilla. Add this wet mixture to the dry ingredients. Whisk the batter together until only very small clumps remain.

Pour the batter into your prepared cake pan. Bake for 40-45 minutes, or until the center has set and the edges are golden. Allow the cake to cool completely before frosting.

While the cake bakes, make the frosting. Pour any excess liquid out of the coconut cream cans. Transfer the solid, cooled cream to a stand mixer fitted with a whisk attachment (alternately, you can use a handheld beater for this). Add the vanilla, salt and sugar. Beat for a few minutes on high speed, or until the frosting is light (it'll be more liquidy than regular buttercream, but thicker than a confectioners' sugar glaze made with water).

When the cake is cool, cover it with frosting. Garnish with coconut flakes, slice, and serve.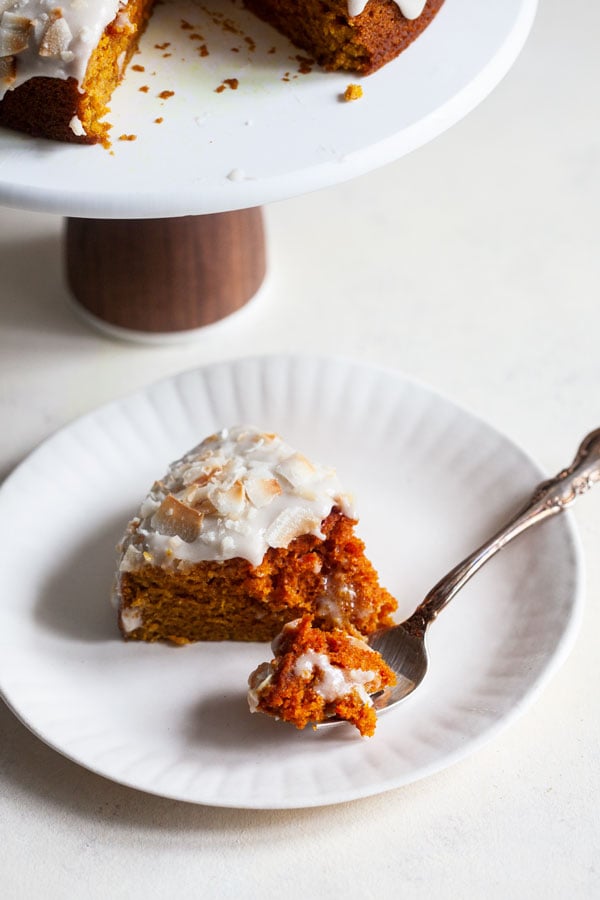 If you plan to make the frosting with the cake, don't forget that the coconut cream needs to chill overnight (an oversight that I made the first time I was planning to frost the cake). Trying to speed the process up in the freezer doesn't work as well.
Much as I don't need an excuse to bake cake, it's always nice when I can sneak something special—in this case, an anti-inflammatory spice—into the mix. I love the color and flavor of this cozy dessert, and I can't wait to make it again. If you try it, I hope you'll enjoy it every bit as much.
Happy Monday, friends. This rotation is demanding, but I'm keeping my eyes on the prize. See you around here soon.
xo
This post is sponsored by BareOrganics. All opinions are my own. Thanks for your support!
The post Vegan Golden Milk Cake with Coconut Frosting appeared first on The Full Helping.