Baked, roasted, mashed, or steamed, a sweet potato can be the star of any meal! Here are 20 wholesome vegan sweet potato recipes that showcase the versatility of this tasty, nourishing root vegetable.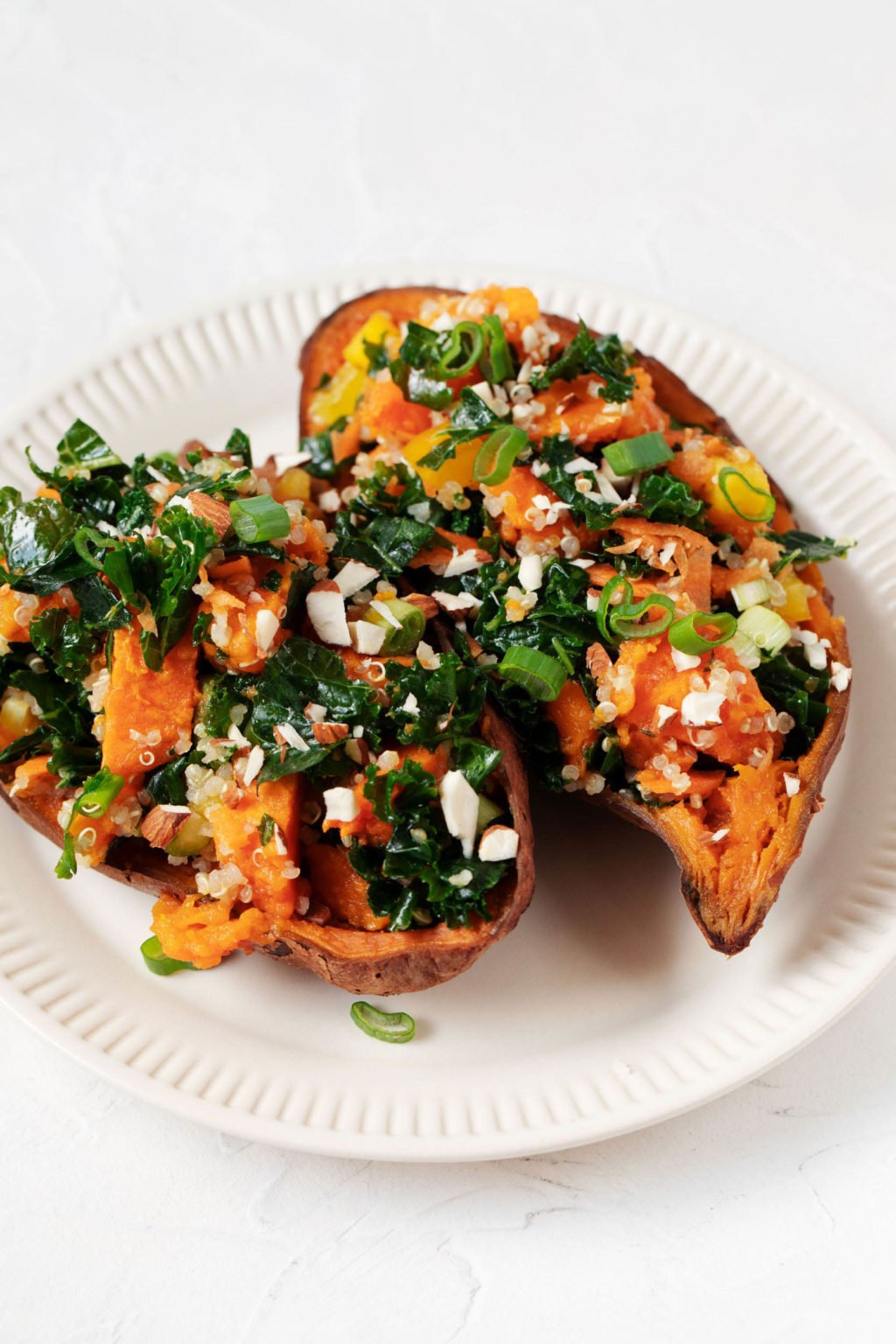 I have never met a sweet potato I didn't like.
I'll eat sweet potatoes baked, steamed, fried, mashed, or hashed. I love them in salads, burgers, tacos, soup, and even dessert.
If you have a sweet potato on hand, you have the foundation for plant-based a meal. I can't tell you how often a baked sweet potato, topped or stuffed with beans and greens and sauce, has turned into dinner.
As life reopens, many of us are excited to spend less time in the domestic sphere. I know I'm not the only person who's gone through phases of major cooking fatigue this year.
Yet cooking still gives me joy, when it doesn't overwhelm me. I've found that the trick is to keep making recipes that feel simple and manageable. Many of these 20 vegan sweet potatoes are wonderfully simple, including the quinoa kale stuffed sweet potatoes that I'll be sharing at the end.
Sweet potato benefits
Sweet potatoes are as nutrient dense as they are tasty. They're famously good sources of beta carotene, the precursor to vitamin A. Beta carotene is converted to vitamin A in the body. Vitamin A, in turn, contributes to healthy vision, growth, proper cell division, and immune function.
Sweet potatoes are a great source of dietary fiber. They're complex carbohydrates, which is a type of carbohydrate that is digested relatively slowly and impacts blood sugar steadily, without dramatic rises or falls.
In addition, sweet potatoes are an excellent source of vitamin C, vitamin B6, which plays a role in protein metabolism, and potassium, which aids in nerve function and fluid balance.
How to bake sweet potatoes
In spite of the fact that there are many ways to prepare sweet potatoes, I end up baking them more often than not. Many of the following vegan sweet potato recipes feature potatoes that have been oven baked.
There are different approaches to baking sweet potatoes, including a "low and slow" method that works well. However, I usually opt for a shorter baking time.
My main way of baking sweet potatoes is to scrub them, prick them, and transfer them to a foil or parchment lined baking sheet. I bake them in a preheated, 425F oven for 40-60 minutes.
The big variance in cooking time is because sweet potatoes vary a lot in size! A small sweet potato might take 40 minutes, while a large one can take 60 or even a little more.
You'll know your sweet potatoes are ready when they can be easily pierced through with a fork or knife. I like sweet potatoes that are almost meltingly tender.
Types of sweet potatoes
Potatoes are often lumped into broad categories of white vs. sweet, but there are many varieties of sweet potato. I use sweet potatoes with orange flesh most often, usually jewel or garnet sweet potatoes.
That said, I also love purple sweet potatoes. There are many varieties of these, and they vary in color and size. I use Murasaki sweet potatoes and Stokes Purple sweet potatoes often. I love their distinctive flavors, and I especially love the color of Stokes Purple sweet potatoes.
20 wholesome vegan sweet potato recipes
Sweet potato meals make me feel grounded and nourished in a very particular way. It's part of why I love eating them so much. The following vegan sweet potato recipes showcase the many ways in which sweet potatoes can be used.
But I hope all of them, including my simple—yet very cozy—quinoa kale stuffed sweet potatoes, will give you a sense of sweet satisfaction.
It's worth highlighting those tasty stuffed sweet potatoes above. I first made them years ago, when I was still a pre-med student. At the time, I was often caught between my desire to eat wholesome, homemade food and the scarcity of my time.
If I could put aside a (mostly passive) hour for baking, then I could very quickly make those stuffed sweet potatoes. They were always super nourishing and healthful, packed with fresh veggies. But they also tasted great. Win, win.
Here's how I make them.
Enjoy the recipes!
xo
The post 20 Wholesome Vegan Sweet Potato Recipes appeared first on The Full Helping.