Share www.GetCollagen.co.za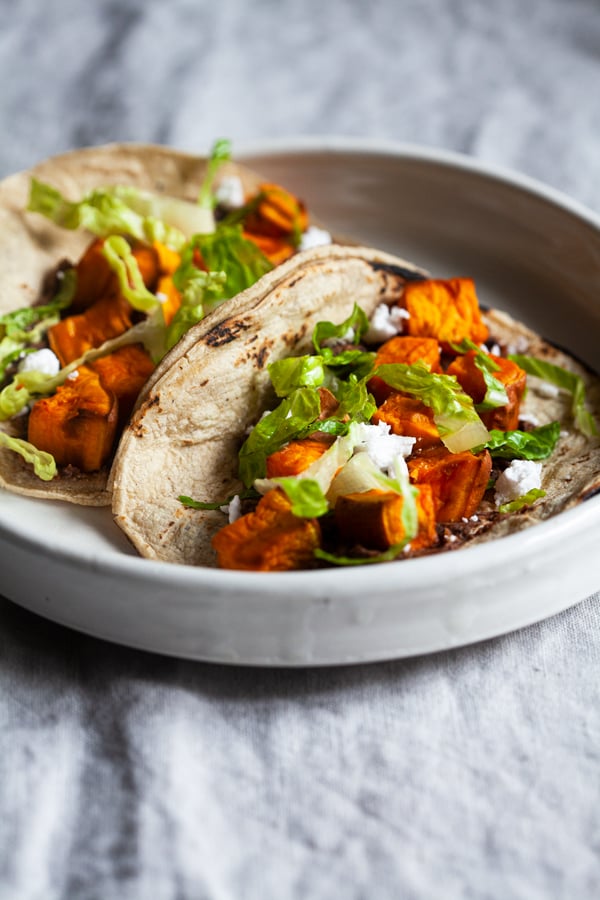 Remember how, on Sunday, I said that I had Superbowl-friendly recipe coming your way? This could have been it, but it wasn't it. What I had planned was a chili that turned out to be yet another in a several-months-long streak of #recipefails. I ate it, and I even froze some of it, but it really wasn't tasty enough to share.
I'm not sure why half of what I cook turns out to be so disappointing lately, but I'm not going to spend too much time obsessing over it, either. Instead, I'll just keep cooking.
These easy vegan black bean sweet potato tacos are what I made for myself after my chili didn't turn out, as a little consolation. I whipped them up with stuff that was already in my fridge or my pantry, namely:
•A can of black beans
•Some sweet potatoes cubes that I'd made in the air fryer over the weekend
•Romaine lettuce
•Violife "just like feta" cheese, which I tend to keep around these days—though for this recipe, you can use any homemade or store-bought soft vegan cheese you like
What's special about these isn't especially bold flavor or creative combinations of ingredients, but rather the fact that they're easy to make with ingredients that many of us might have at home already. They're also meal-prep and batch cooking friendly, if you roast (or air fry) the sweet potatoes and make the black bean spread in advance.
That black bean spread is a simpler, more hands-off alternative to the vegan refried beans that I use for my breakfast tacos in Power Plates, but it'll give you the satisfaction of making something yourself, rather than picking up refried beans at the store (not that I have anything against the commercial ones; I buy them all the time!).
You'll see that I combine balsamic vinegar and lime in the spread, which might sound like a wacky combination. But it works. It's inspired by JL Fields' balsamic black beans in Vegan Meal Prep, which made me fall in love permanently with the black bean/balsamic combination. I use it all the time now, not only in this dip but also in a version of my slow cooker black beans (I stir in the vinegar at the end) and this soup.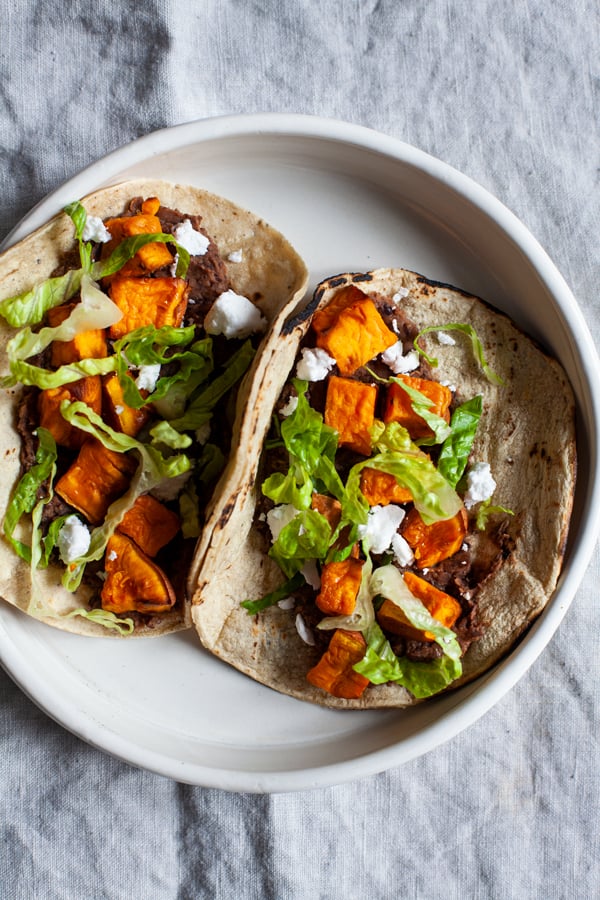 Easy Vegan Black Bean Sweet Potato Tacos
Tangy Black Bean Spread
1 1/2 cups cooked black beans (1 can, drained and rinsed)
1 1/2 tablespoons freshly squeezed lime juice
1 tablespoon balsamic vinegar
1/2 teaspoon ground cumin
1/2 teaspoon smoked paprika
1/2 teaspoon ground coriander
1/4 teaspoon onion powder
1/2 teaspoon salt (or to taste)
Tacos
2 medium or large sweet potatoes, cubed
1 1/2 tablespoons neutral, high heat vegetable oil (such as safflower, grapeseed, or refined avocado)
8 6-inch corn or wheat tortillas
4 ounces (about 1 cup) crumbled vegan soft cheese, such as a vegan feta, a vegan goat cheese, or my go-to cashew cheese*
4 cups chopped romaine lettuce
Optional additions: chopped fresh cilantro, hot sauce, pickled onions or jalapenos, salsa, a dressing/sauce that you love
To make the sweet potatoes, preheat your oven to 400F and line two baking sheets with parchment paper. Toss the potatoes with the vegetable oil, then transfer them to the baking sheets. Roast for 25-35 minutes, or until the potatoes are browning at the edges and tender. Alternately, prepare the potatoes in the air fryer (you may need to do this in batches), air frying them at 375 for 15 minutes, shaking the basket once halfway through cooking to encourage even browning.

While the potatoes roast, make the black bean dip. Place all ingredients into a food processor fitted with the S blade. Pulse to combine, scrape the bowl down with a spatula, and then keep pulsing until the mixture is smooth and spreadable but still has some texture, adding a tablespoon or two of water as needed along the way. Adjust salt and other spices to taste, then set the spread aside.

To assemble the tacos, you can toast your tortillas if you like! I do this by turning a burner on my stovetop to very low flame, then holding each tortilla with cooking tongs over the flame until it's browned on each side. You can also crisp them up a little in the oven or leave them plain. Spread 2 tablespoons of the black bean spread over the center of each tortilla, and top with a half cup of potato cubes, 2 tablespoons of crumbled cheese, and a handful of chopped romaine. Serve.
*You can find the recipe for my go-to cashew cheese here.
Black bean spread will keep for up to 4 days in an airtight container in the fridge.
You could definitely jazz these up with quick pickled onions, salsa or hot sauce, fresh herbs, and so on. But for me, the beauty of the tacos was in creating something good enough with what I had, rather than getting worked up about the fact that a slightly more ambitious recipe hadn't turned out.
It's a small gesture—making tacos from the fridge/pantry—but small moments of resilience can be really  powerful. It's not easy for me to pivot and just keep going when something doesn't work out according to plan. But I'm getting better at it. One vegan taco at a time 🙂
Hope everyone is having a good week. And I hope you're enjoying the new blog look! It was designed with love and intention, and I'm very happy for this fresh start.
xo
The post Easy Vegan Black Bean Sweet Potato Tacos appeared first on The Full Helping.