Share www.GetCollagen.co.za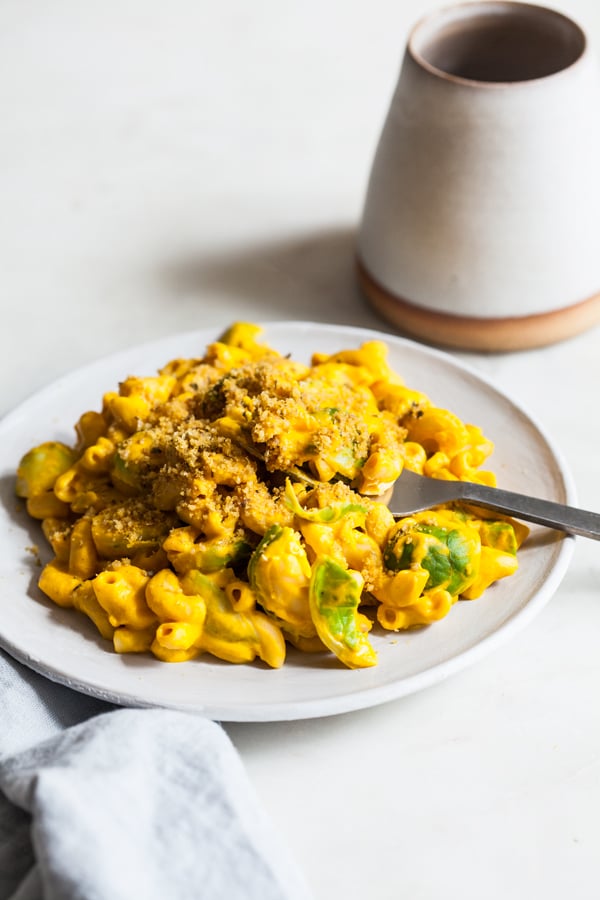 This creamy vegan carrot mac with walnut parmesan is what happens when you've got a strong hankering for comfort food, but a fraction of the time it would usually take to whip up a bubbly, baked, mac n' cheese masterpiece. It's quick and untraditional, but for me, so many of the key components are here: those sweet, nostalgic pasta elbows, cheesy flavor, a super creamy sauce, and a crispy, salty, savory sprinkle on top.
I've played around with lots of different, speedy vegan mac n' cheese formulas: this one is a go-to, and in the summer this red pepper version is my favorite. I've had a feeling that last weekend's chilly snap might be the last hurrah of winter 2018 (it's supposed to be in the 70s on Saturday!) so I've been enjoying a few of my favorite roots and cooler weather veggies. I used Brussels sprouts as a mix-in here; you could us broccoli florets, zucchini or summer squash, chopped kale, or pretty much any vegetable you'd like instead. The veggies get added to the pasta as it cooks, making the recipe especially streamlined.
The star, as with any mac n' cheese dish, is of course the sauce. I've been wanting to try carrots as a base for ages (there's a more elaborate butternut mac in Food52 Vegan that I love, and I suspected that carrots might add a similar, subtle sweetness), and I'm so glad I finally did it. I love this sauce, and I'll probably make batches of it to use as an all-purpose cheese sauce; I'm pretty excited to pour it over a baked potato in the very near future.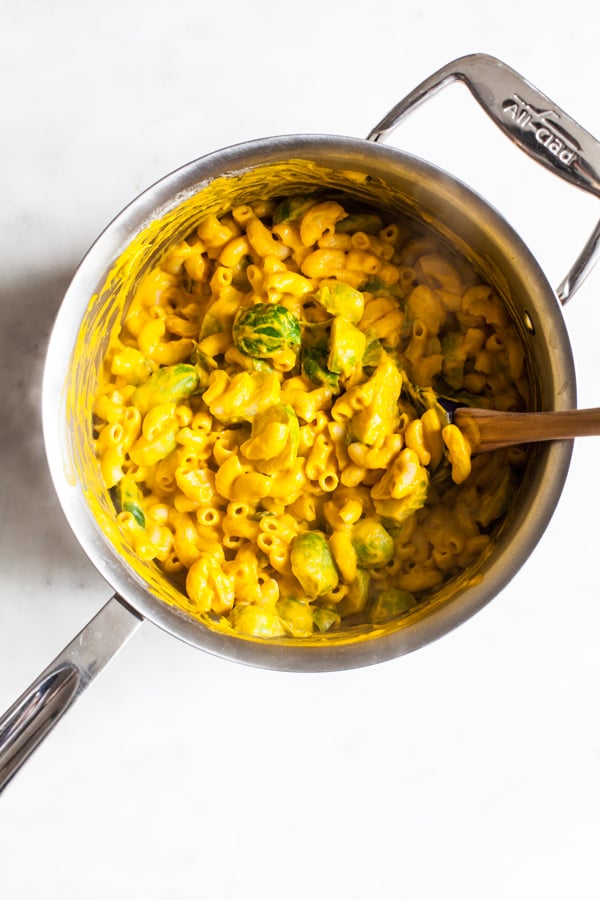 The sauce can be made ahead of time, if you want the dish to be as easy as boiling pasta. For a little crispiness on top, I whipped up a simple walnut herb "parmesan." Once again, I was excited to have a new and different version of something I've made many times before: you can create vegan parm with pretty much any nut + nutritional yeast + sauce, but this was my first time using walnuts. I was happy to have such a nutrient-dense nut as a base, and the flavor is great—dried herbs add a lot to this otherwise simple meal.
| | | |
| --- | --- | --- |
| Creamy Vegan Carrot Mac with Walnut Herb "Parmesan" | | Print |
Recipe type:
main dish, quick & easy
Cuisine:
vegan, gluten free option, soy free, no oil
Prep time:
Cook time:
Total time:
Ingredients
2 cups roughly chopped or sliced carrot
⅓ cup (1.5 ounces) raw cashews, soaked for at least 2 hours and drained of soak water
¾ cup + 1-3 tablespoons (as needed) water
½ teaspoon salt, plus more to taste
1½ tablespoons lemon juice
3 tablespoons nutritional yeast
1 small clove garlic or ½ teaspoon garlic powder
Black pepper to taste
8 ounces pasta of choice (I like a small shape, like shells or elbows, for this dish)
12 ounces halved or quartered (depending on the size), trimmed Brussels sprouts, or another chopped vegetable of choice
Walnut "parmesan" (below), or a vegan parmesan of choice, for topping
½ cup raw walnut halves or pieces
¼ cup nutritional yeast
¼ teaspoon salt (more as needed)
1 teaspoon dried oregano
½ teaspoon dried thyme
Instructions
Bring a pot of water to boil and fit it with a steamer attachment. Steam the carrots till they're tender, about 8 minutes. Alternately, you can place the carrots in a microwave-safe bowl with 2 tablespoons water and microwave for 4 minutes, or until they're tender. Set the carrots aside.
Bring a larger pot of water to boil. Add the pasta and cook according to package instructions; 2 minutes before the cooking time is up, add your Brussels sprouts or other vegetable to the pot.
While the water boils and/or pasta cooks, transfer the cashews, cooked carrots, ¾ cup water, salt, lemon juice, nutritional yeast, and garlic to a powerful blender or a food processor. Blend till the sauce is very smooth; if it's very thick or it won't blend nicely, add an extra 1-3 tablespoons water, or as much as you need to get a thick but smooth and pourable mixture. Add black pepper to taste.
To make the parm, transfer all ingredients to a food processor and pulse till you have a fine crumble. (This can be done in advance; the parmesan will keep for up to 2 weeks in an airtight container in the fridge.)
When the pasta and veggies are ready, drain them. Add the sauce and mix well; taste, then add additional salt as needed. Divide the mac onto plates and top with the walnut parm or your vegan parm of choice. Serve.
Notes
The carrot sauce can be prepared up to four days in advance and stored in an airtight container in the fridge.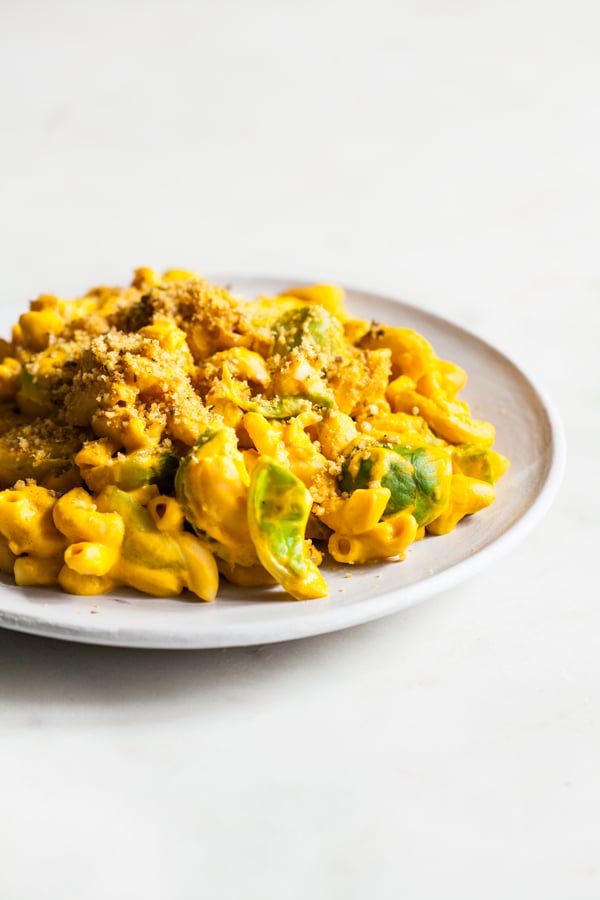 With an intense final stretch of the semester directly in front of me, I couldn't be happier to have these leftovers in the fridge, waiting to feed me for the next couple nights. I'm sure I'll be ecstatic to eat something more springy by Saturday, but today, comfort and coziness is the name of the game. Happy Tuesday—I'm beaming cozy thoughts to you all.
xo
The post Creamy Vegan Carrot Mac with Walnut Herb "Parmesan" appeared first on The Full Helping.