Share www.GetCollagen.co.za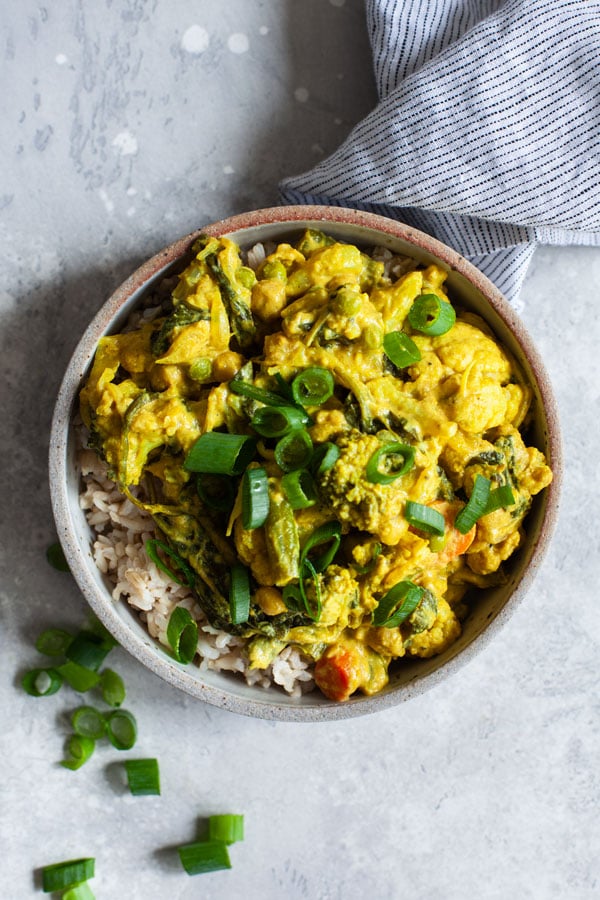 My latest dietetic internship rotation is at a community institution that has a teaching kitchen. Like many organizations with a farm-to-table emphasis, the teaching kitchen tries to encourage meatless meals, at least on a part-time basis (à la Meatless Monday). One of their go-to offerings is a vegetarian korma. When I first saw the recipe it occurred to me that I'd never posted a vegan korma here on the blog, in spite of having made many non-traditional versions of the dish at home.
I'm emphasizing the non-traditional bit because my understanding is that korma often involves a braised meat and a yogurt or cream-based sauce. Yet it's also one of the Indian dishes I've most often seen veganized, which is what has encouraged me to try it over the years. I've appreciated how simple it is to make and how versatile. This vegan cashew chickpea korma (which I make with my homemade cashew cream) is the one that I turn to most often, even if the vegetables I use change all of the time.
I'm giving you two variations of this dish. The first is the recipe that I started with. It's plenty simple, and the vegetables that it calls for can be adjusted to fit what you have at home. So long as they're relatively quick-cooking, they should work as the recipe indicates (sweet potato or winter squash might take a bit longer).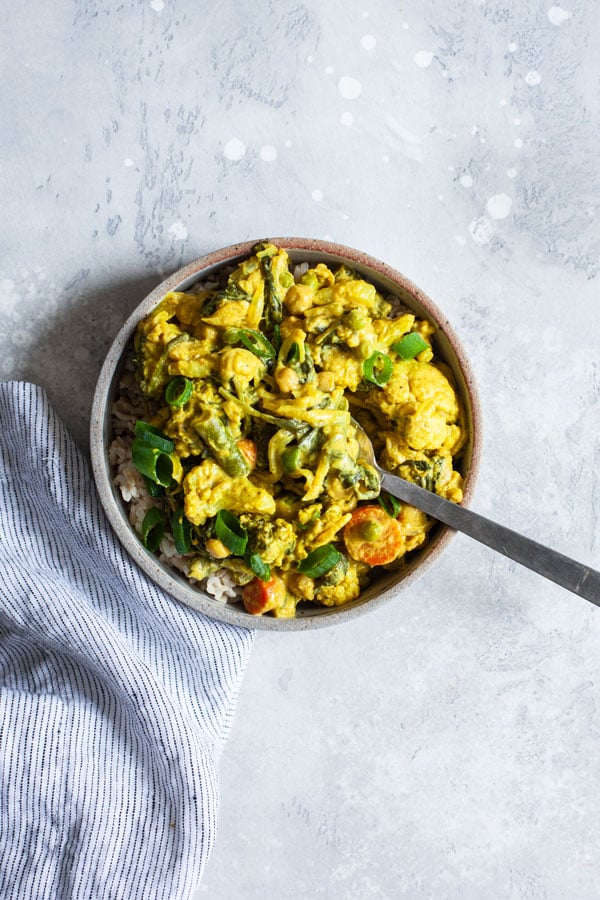 The second variation is the one I've been using since the DI started. This is probably a topic for a longer, batch cooking-themed post (which I'm planning on sharing), but frozen vegetables have been a lifesaver this year. Yes, fresh usually is crispier, and it's often tastier. But right now the benefits of pre-cut vegetables that keep for a while, don't require a lot of cleaning or prepping, and are super inexpensive to boot outweigh any strict adherence to fresh produce that I might have.
So, option #2 involves a couple bags of frozen veggies, which you can heat up in the microwave before starting the korma. Prepared this way, the recipe takes about 15 minutes to make–provided you've made the cashew cream beforehand, and substituting full fat coconut milk is an option, too. It's a nutrient dense, flavorful meal that tastes as if it's been simmering for a lot longer than it has. Piled over rice and topped with fresh herbs or green onions, it's a perfect weeknight supper–one that's kept me fed on many evenings when cooking felt insurmountable. Here's the recipe.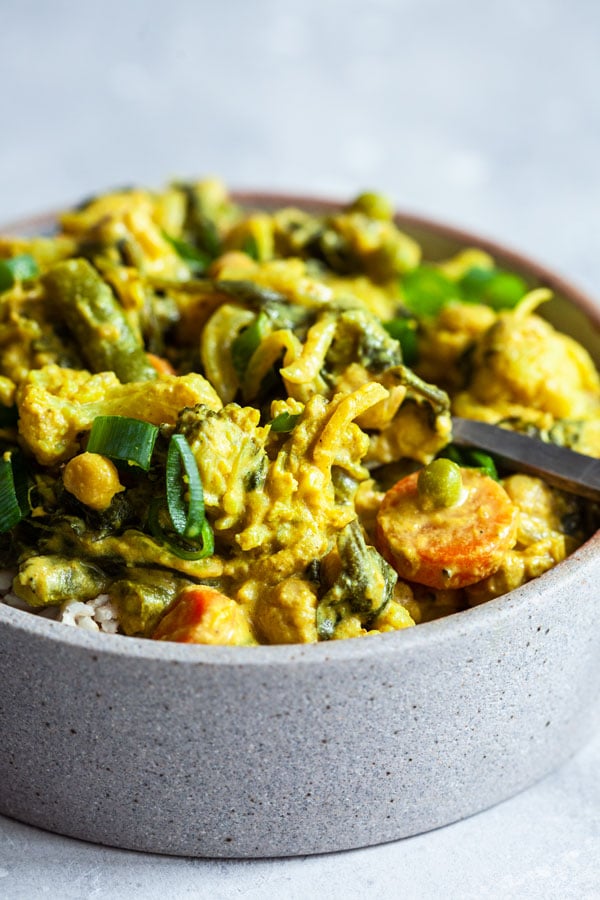 Weeknight Vegan Cashew Chickpea Korma
A quick, easy weeknight vegan cashew chickpea korma that you can modify with whatever fresh or frozen vegetables you have!
2 teaspoons neutral flavored vegetable oil (such as grapeseed or refined avocado) or a few tablespoons vegetable broth
1 small or medium white or yellow onion, thinly sliced
1 jalapeno pepper, chopped
1 tablespoon minced or grated fresh ginger
2 cloves minced garlic
2 teaspoons ground cumin
2 teaspoons ground coriander
1/4 teaspoon ground cardamom
1/4 teaspoon ground cinnamon
1/2 teaspoon salt (or to taste)
1 pinch freshly ground black pepper
2 cups chopped cauliflower or broccoli stems and florets (or a combination of both)
1 cup chopped green beans
1 cup sliced carrots
1/2 cups frozen green peas, thawed
1 1/2 cups cooked chickpeas (1 can, drained and rinsed)
2 cups low sodium vegetable broth
1 cup cashew cream ((substitute full fat, canned coconut milk))
3 cups baby spinach
2 tablespoons freshly squeezed lime juice
Chopped green onion tops or fresh cilantro ((optional, for serving))
Heat the oil in a large, deep skillet (or a medium sized pot) over medium heat. Add the onion and pepper. Cook for 5 minutes, stirring occasionally, or until the onion is clear and tender. Add the ginger and garlic and cook for another minute, stirring constantly. Stir in the cumin, coriander, cardamom, cinnamon, salt, and pepper.

Add the cauliflower, green beans, carrots, peas, chickpeas, broth, and cashew cream to the skillet. Bring the mixture to a simmer. Reduce the heat to low, cover, and simmer for 10 minutes, or until all vegetables are tender. Stir in the baby spinach and lime juice and simmer for 2-3 more minutes, or until the spinach is tender. Taste and adjust the seasonings as desired. Serve over cooked rice, quinoa, or another grain, or with a flatbread of choice. Top with chopped green onion tops or cilantro.
For a shortcut version: Replace the vegetables with 4-5 cups (about 2 bags) frozen, pre-cut vegetables of choice. I usually use any mix of cauliflower, broccoli, carrots, green beans, red peppers, and peas. During step 1, when the onion and jalapeno is cooking, cook the the vegetables in the microwave as instructed. Drain the vegetables and add them for step 2. Reduce the simmering time to 5 minutes instead of 10. Voila!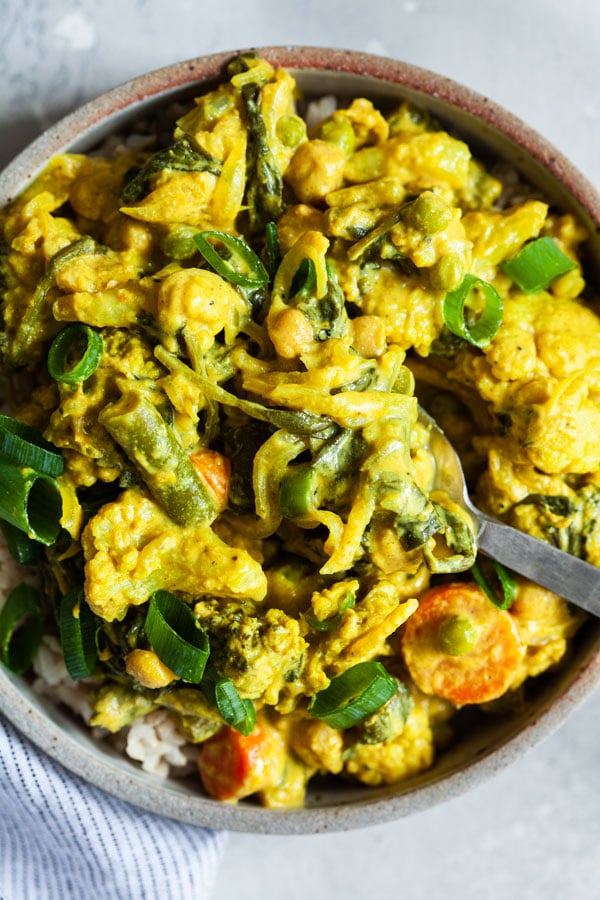 Rice is my favorite serving option for this one–it soaks up all of the creamy, spicy sauce perfectly–but it's also great with quinoa, whole grain pita, or even some of these homemade chapatis. Cashew cream is definitely my preference (I always make it in double batches and freeze some so that it can be as convenient as using canned coconut milk), but coconut milk is traditional and works well, too. Some of the newer, creamier cashew/nut milks (like Elmhurst 1925) might also be a good option.
Glad that this rotation prompted me to post a recipe that's been a favorite at home for a while now. And hope that some of you might enjoy it and find it as convenient as I do!
Alright, friends: another busy day of the internship waits for me tomorrow, so it's time for me to do a little unwinding. See you this weekend for the regular weekend roundup.
xo
The post Weeknight Vegan Cashew Chickpea Korma appeared first on The Full Helping.